Submitted by kwall_admin on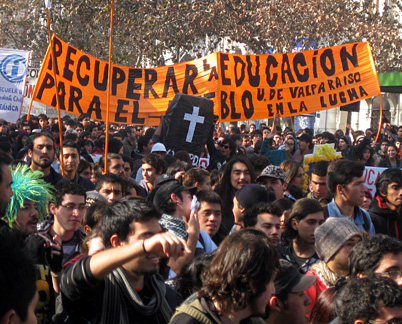 Leading international scholars will gather at Occidental College Feb. 28 to offer a critical examination of the quality of democratic institutions, citizenship, and government in Latin America at a daylong workshop held in the Dumke Commons of Occidental's Swan Hall.
USC's Abraham Lowenthal, an internationally renowned authority on Latin America and inter-American affairs, will offer a keynote luncheon talk on "Transitions Toward Democracy: Learning from Political Leaders," drawing on face-to-face interviews he and Sergio Bitar of Chile conducted with former presidents and prime ministers from around the world who played leading roles in such transitions.
"The widely divergent outcomes of Latin America's transition from authoritarian rule has spurred numerous debates over issues such as liberal versus direct democracy and how to reduce poverty and inequality," said Dolores Trevizo, professor of sociology at Occidental and workshop organizer. "The experts we are bringing together share a concern for the overall quality of institutions and a desire to better understand the way in which citizenship is experienced in Latin America today. "
Among the day's wide-ranging topics will be the war on drugs, civil-military relations, indigenous and women's rights movements, constitutional accountability, and popular representation. While much of the discussion will treat the region as a whole, some participants will focus on case studies from Mexico and Venezuela.
Panels are scheduled for 10 a.m., 1:30 p.m., and 4 p.m., with Lowenthal's keynote luncheon speech at 12:30 p.m. Hospitality begins at 9:30 a.m.
Participating scholars are:
Roderic Ai Camp, Philip McKenna Professor of the Pacific Rim at Claremont McKenna College. A member of the Advisory Board, Mexico Institute, Woodrow Wilson Center for International Scholars, Smithsonian, Camp is the author of 30 books on Mexico, most recently Politics in Mexico (Oxford University Press, 2013).
Jodi S. Finkel, professor of political science at Loyola Marymount University. Finkel researches human rights, political institutions, and democracy in Latin America and has published on judicial reform and democratization in Argentina, Mexico, and Peru. She is a founder of MuJER (an empowerment program for Guatemalan sex workers) and president of Por un Mejor Hoy (a U.S.-Mexico volunteer organization).
Joe Foweraker, emeritus fellow of St. Antony's College, Oxford and formerly professor of Latin American politics at Oxford. After monographs on Brazil, Spain, and Mexico he published on social movements and citizenship rights in Latin America, as well as on the quality of democratic government. He is co-author of a textbook on Governing Latin America (Polity Press, 2003).
Neil Harvey, professor of government at New Mexico State University. Harvey's main area of research concerns indigenous peoples and political change. His published works include the prize-winning book The Chiapas Rebellion: the struggle for land and democracy (Duke University Press, 1998). He is also co-author with Joe Foweraker and Todd Landman of Governing Latin America.
Jane Jaquette, emeritus professor of politics and diplomacy and world affairs at Occidental. A specialist in international relations and intra-national gender relations in Latin America, Jaquette has edited seven books and published widely on topics ranging from Peruvian politics to international feminism, with a special emphasis on women's movements and democratization in Latin America. She is presently collaborating on a book on U.S.-Latin American relations with Abraham Lowenthal.
Abraham Lowenthal, professor emeritus of international relations at USC. Lowenthal is the founder of three prestigious institutions: the Woodrow Wilson Center's Latin American Program, the Inter-American Dialogue, and the Pacific Council on International Policy. His numerous books, articles and edited volumes include Scholars, Policymakers and International Affairs, co-edited with Mariano Bertucci, forthcoming in 2014.
Gerardo Munck, professor of international relations at USC. A native of Argentina, his research focuses on democracy, methodology, and Latin America. His books include Measuring Democracy: A Bridge Between Scholarship and Politics (Johns Hopkins University, 2009); Regimes and Democracy in Latin America (Oxford, 2007); and Authoritarianism and Democratization: Soldiers and Workers in Argentina, 1976-83 (Penn State, 1998).
Deborah Norden, professor of political science at Whittier College. Norden's research focuses on Latin American politics, especially civil-military relations and democratization in Argentina and Venezuela. Her publications include Military Rebellion in Argentina: Between Coups and Consolidation (University of Nebraska Press, 1996) and Argentina and the United States: Changing Relations in a Changing World (co-authored with Roberto Russell, Routledge Press, 2002).
David Pion-Berlin, professor of political science at UC Riverside. Among his books are Transforming Latin America: The International and Domestic Origins of Change, co-authored with Craig Arceneaux (University of Pittsburgh Press, 2005), Civil-Military Relations in Latin America: New Analytical Perspectives (North Carolina, 2001); and Through Corridors of Power: Institutions and Civil-Military Relations in Argentina (Penn State, 1997).
Jennifer Piscopo, assistant professor of politics at Occidental. Her research on legislative institutions, gender quotas, and women's representation has appeared in Politics & Gender, Parliamentary Affairs, Publius: The Journal of Federalism, Comparative Political Studies, and The Latin American Research Review. She is co-editor of the volume The Impact of Gender Quotas.
Melissa Rogers, assistant professor of politics and policy, Claremont Graduate University. Her work focuses on state institutional and economic development in Latin America.  Her recent studies have examined the effectiveness of Argentina's provinces in implementing tax, health and education policies.
Dolores Trevizo, professor of sociology at Occidental. She has published articles on various protest movements in Mexico since 1968. Her new book, Rural Protest in the Making of Democracy in Mexico, 1968-2000 examines how various movements contributed to Mexico's transition to electoral democracy.  She is presently working on the history of human rights activism in Mexico.
The workshop is made possible through the support of the Marie S. Young Endowment and is sponsored by the Latino/a and Latin American Studies program at Occidental. For more information, contact Dolores Trevizo at dtrevizo@oxy.edu.