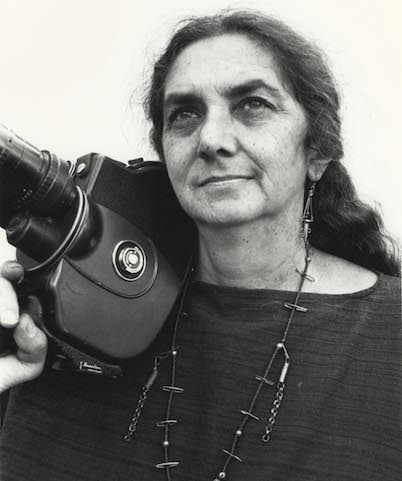 Cinephiles will have a rare opportunity to see Occidental College filmmaker Chick Strand's 1979 experimental documentary "Soft Fiction" on September 25 at the Los Angeles County Museum of Art.
Tickets for the screening can be purchased online. Students with ID are free; general admission is $10.
Strand's film—which interweaves the compelling stories of five female artists and thinkers, pushing traditional distinctions between fictional and documentary filmmaking—has never been released on DVD or video, making the screening of this newly restored print a rare opportunity.
Strand joined the Occidental faculty in 1970 to create the College's filmmaking program—the media production track of what is now the Media Arts & Culture Program. She taught at Occidental for 25 years, and died in 2009 at age 78.
She eschewed the Hollywood film industry and instead delved into ethnographic documentary and avant-garde filmmaking. A co-founder of the San Francisco experimental-film venue Canyon Cinema, she worked exclusively in 16-millimeter film, and sometimes incorporated found audio and footage in her films to create a collage effect. They include sound from a 1940s radio show, a 1970s church service and Third World images.
The result is a catalog of 18 films that document and explore the lives of Mexican and Venezuelan Indians ("Anselmo" and "Mosori Monika"), the loss of innocence ("Guacamole"), and sensuality and sexuality ("Fever Dream" and "Soft Fiction"), among other themes. Her work has been exhibited at other prominent venues such as the Cannes International Film Festival, the Museum of Modern Art and the Smithsonian.
"Fake Fruit Factory," Strand's 1986 documentary about the lives of young female Mexican factory workers, was selected by the Library of Congress in 2012 to be permanently preserved in its National Film Registry as a cultural, artistic and historical treasure.