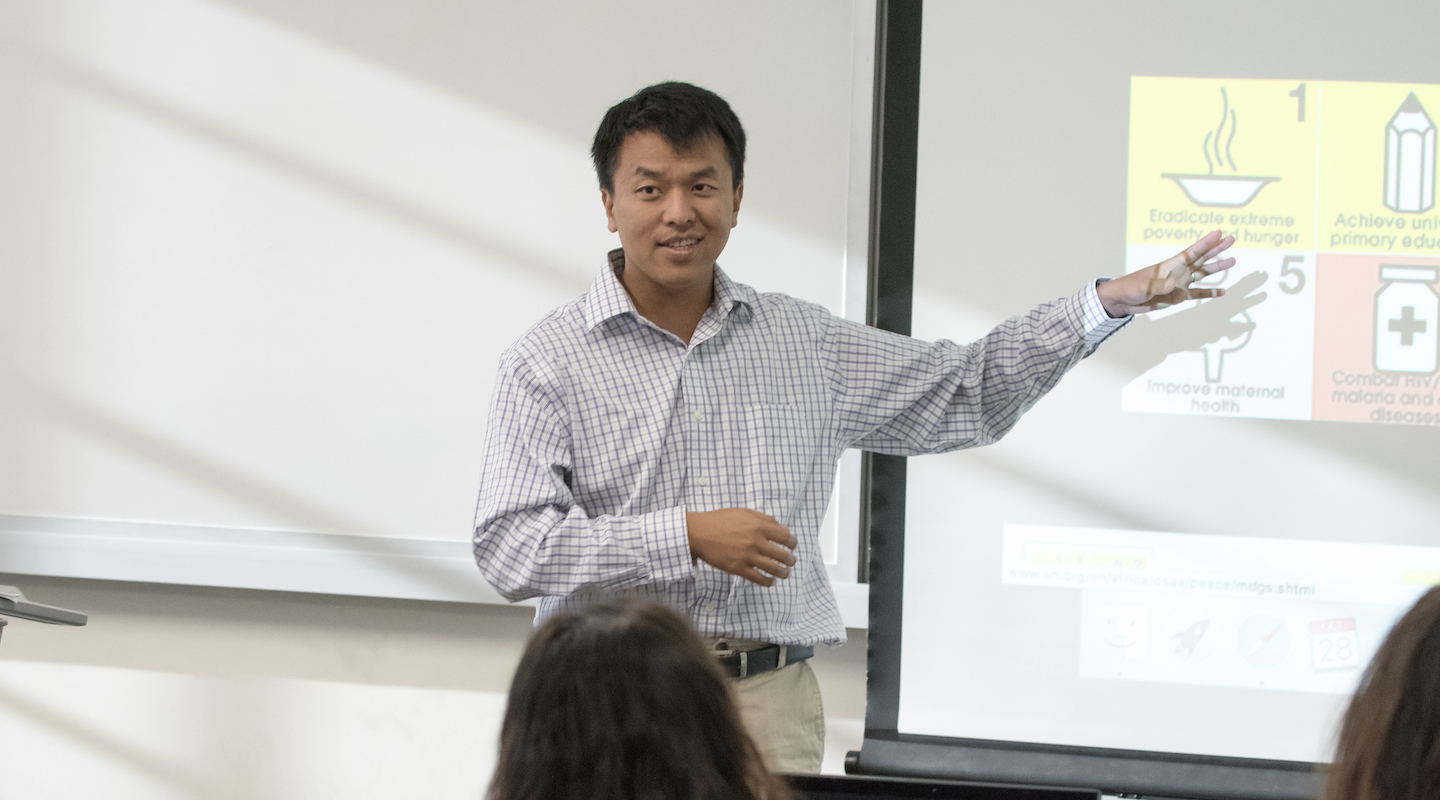 Occidental College's Sophal Ear has been named a recipient of the 2019 Tobis Medal, bestowed annually by the UC Irvine Interdisciplinary Center for the Scientific Study of Ethics and Morality to people prominent in their chosen field who have also given back to society.
First awarded in 2014, the Tobis Medal honors the professional integrity, concern for social justice, and humanitarianism of Jerome Tobis, a founding member of the Ethics Center. Previous winners have included President Barack Obama '83 and First Lady Michelle Obama. Ear, an associate professor of diplomacy and world affairs at Occidental, will be presented with the medal at a May 29 ceremony in Irvine.
A Cambodian refugee whose family fled after the Khmer Rouge took over the country in 1975, Ear is an expert on China's influence in Cambodia and an outspoken critic of the authoritarian government of Cambodian Prime Minister Hun Sen. He is regularly quoted in such outlets as the New York Times, the Washington Post, the Economist, the BBC, and the South China Morning Post.
"I've been fortunate, and to whom much is given, much is expected," Ear says. "I'm tenured, and that means that I can afford to speak up without fearing that I'll lose my job. That's an incredible freedom—a gift. Somebody who has that gift should really turn around and try to give back as much as they can."
Ear joined the Occidental faculty in 2014 after teaching political economy and post-conflict reconstruction at the U.S. Naval Postgraduate School and a post-doc in international development policy at the Maxwell School of Syracuse University.
He has consulted for the World Bank, was assistant resident representative for the United Nations Development Programme in East Timor, and advisor to Leopard Capital, Cambodia's first private equity fund. Ear was recently re-elected to the Crescenta Valley Town Council, which represents an unincorporated area of 20,000 residents in Los Angeles County.
A TED Fellow and Fulbright Specialist, he has been a term member of the Council on Foreign Relations and a Young Global Leader of the World Economic Forum. After nearly seven years as a trustee of the Nathan Cummings Foundation, he currently serves on the boards of Refugees International, Partners for Development, the Southeast Asia Resource Action Center, the International Public Management Network, the Siem Reap-based Center for Khmer Studies, and the Phnom Penh-based Southeast Asia Development Program.
He is the author of Aid Dependence in Cambodia: How Foreign Assistance Undermines Democracy (Columbia University Press, 2013) and co-author of The Hungry Dragon: How China's Resources Quest is Reshaping the World (Routledge, 2013). His next book, Viral Sovereignty, on the politics of diseases and why countries declare or don't declare outbreaks, is under external review at a university press. A graduate of UC Berkeley, he earned his master's at Princeton University and returned to Berkeley for his Ph.D.