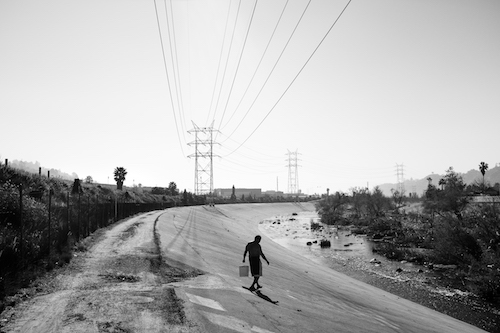 South of Fletcher: Stories from the Bowtie, a photo exhibition about a complicated site on the Los Angeles River, will be on display at Occidental College's Weingart Gallery September 13 – November 4. The show is part of a larger multi-platform storytelling project by Fonografia Collective, produced by Clockshop.
Once one of Southern California's most important rail yards, the Bowtie is now an open site overlooking a lush stretch of the Glendale Narrows, where vegetation has reclaimed building foundations and migratory birds flock to the river. California State Parks purchased the site in 2003, and Clockshop — Los Angeles' multidisciplinary arts organization that creates new conversations about art, politics, and urban space — has been producing programming there since 2014. But outside of these official uses, the Bowtie has a life, and a following, of its own.

Documentarians Ruxandra Guidi and Bear Guerra of Fonografia Collective have been working at the Bowtie for the past year, talking to people who frequent the site and learning more about its historic, current, and potential uses. Through their research, they've discovered that some of Los Angeles's most pressing issues — the housing crisis, lack of open space, effects of climate change, and forces of urban development — converge at this unique piece of land. South of Fletcher: Stories from the Bowtie will present their findings through the photography exhibition, a five-episode podcast series, and three public discussions.

In partnership with Oxy Arts, the College's interdisciplinary hub for the arts, major themes from this project will be integrated into Occidental's CORE Program for first-year students, including such cultural studies seminars as "Los Angeles From Local to Global."

From November 2018 through March 2019, Occidental also will be the site of a temporary installation of San Fernando artist Beatriz Cortez' kinetic sculpture Tzolk'in, currently sited at the Bowtie and paired with a smaller sister piece in the Hammer Museum's Made in L.A. biennial.

South of Fletcher launches September 10 with the release of its first podcast episode, available at Clockshop.org and on iTunes. The photography exhibition in Weingart Gallery opens on September 13 from 5 to 8 p.m.  Other events include:
Artists' Talk with Ruxandra Guidi and Bear Guerra of Fonografia Collective, 7 to 8:30 p.m. on September 24 in Occidental's Choi Auditorium.

Bowtie Tour and Campfire with Bob Ramírez, former Southern Pacific Railroad employee, 3 to 6 p.m. on October 14 at the Bowtie Project, 2780 W. Casitas Ave.

Panel Discussion with Fonografia Collective; Christopher Hawthorne, Los Angeles chief design officer; Helen Leung, co-executive director of LA-Más; and Kat Superfisky, urban ecologist at Studio-MLA and executive director of Grown in LA, 7 to 8:30 p.m. October 17 at Clockshop, 2806 Clearwater St.
This project was made possible with support from California Humanities, a non-profit partner of the National Endowment for the Humanities; the National Endowment for the Arts; the Wilhelm Family Foundation; the Philip & Muriel Berman Foundation; the Andrew W. Mellon Foundation, and several private donors.