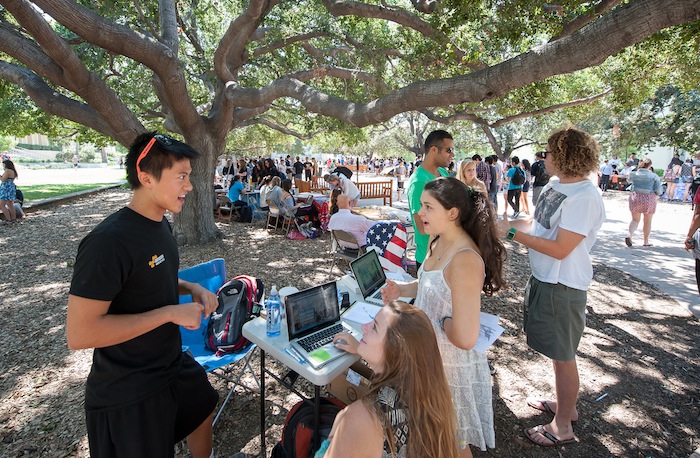 Move over Groupon and Living Social. There's a new deal site in town and its Tiger founders have their sites set on savvy students.
Occidental students are known multitaskers -- it wouldn't be unusual to encounter a student who is planning a campus concert, playing intramurals and working on campus at the same time with ease. A group of entrepreneurial students is aiming to provide schedule-conscious Tigers with yet another tool for their time-management arsenal.
These time and tech savvy students started Student IDeals, a web service that aggregates local student discounts in one place, making it easier to search for the best deal. Instead of spending time visiting multiple deal sites or keeping abreast of all local businesses, Sam Benfey '14 hopes that the site that he and six fellow Occidental students started this summer will be a one-stop shop for frugal students looking for interesting ways to explore the community.
"We're trying to get students out and doing things," Benfey said. Interested in fine art? Visit the Norton Simon Museum for free with student identification. Need a wheat-grass pick-me-up? Get 15 percent off at Eagle Rock Juice Co.
Currently more than 700 students have registered with the site to find deals at more than 100 local businesses. Benfey says that the site's early success and momentum is partially due to Oxy's culture of innovation. Before launching its website, the Student IDeals team presented their idea to Oxypreneurship, Oxy's extremely active entrepreneur club.
"They picked us apart," Benfey said. However, when club members asked how Student IDeals would set themselves apart from other deal sites, they were prepared with a response:  "Students bring a lot of traffic and merchants know that," Benfey said.
Many of the local restaurants and vendors were contacted by the team during their grassroots outreach efforts this summer. According to Benfey, their efforts are already paying off.
"Merchants have been saying it's bringing them more traffic," said Benfey. Amy O'Connell, who along with her sister, Katie, is co-owner of local eyewear specialty shop, Society of the Spectacle, said that she has been quite satisfied since a member of the Student IDeals team walked up the stairs of her business. She's noticed more Oxy students in her establishment since advertising a 20 percent discount on the site.
"It was such a nice, pleasant thing to have happen to us," said the Highland Park business owner.  "Eyeglasses aren't always the easiest things for students to buy, so they usually buy them back home. I just like that they're more aware of our business and that totally helps."
The Student IDeals team is working on broadening their reach here on the Occidental campus as well as expanding to additional campus communities.  Benfey says they hope to expand into neighboring Pasadena, where they will test their service with students at Pasadena City College, Caltech, Los Angeles Music Academy, and Le Cordon Bleu.
"We hope other schools will use the service as a way to connect students with the surrounding community," Benfey says.