A unique economics course at Oxy took students to four German cities for a dynamic summer field component following a spring semester on campus.
Andrew Masciarelli '25 didn't have a sense of the true scale of wind turbines until he was standing inside one. Along with a small group of Occidental students, his professor and a guide, he was touring the Nordex facility in Hamburg, Germany, one of the world's leading manufacturers of wind turbines.
"In the factory's training area, we got to go inside the main chamber of a wind turbine to see the technology that is fueling the future of sustainability," Masciarelli said. "It was so cool to step inside and see how complex these machines are—machines that are generating energy, really, from thin air."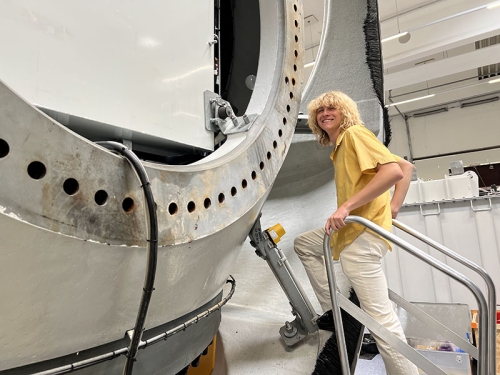 Masciarelli was one of 18 students enrolled in "ECON 312: Political Economy of Sustainable Development: Case of Germany" taught by Assistant Professor of Economics Jason Wong , an expert in sustainable development. Following the spring semester on campus, the class traveled to Germany May 30-June 17, allowing students to apply and expand their learning in a real-world context.
The course was designed to introduce students to Germany's political and economic structures in addition to the primary environmental and sustainability debates in the country, which has emerged as one of the world leaders in innovative sustainability since World War II.
Masciarelli, an economics major with a politics minor, is from Bellaire, a small village in Ohio. He says he's always had a deep passion for sustainability.
"It's something that is at the root of everything I believe in. I have a deep understanding of the scarcity of resources, which is also at the center of economics as a study. It's important to acknowledge that we have limited resources on this planet and we need to be cognizant of how we're using them."
On campus, students worked through readings and wrote papers in addition to contributing to a class blog through weekly posts. Their posts were based on topics students learned about in class and invited them to expand their research and understanding in ways that were personally interesting to them.
The course's international component brought students to four core cities: Stuttgart, Freiburg, Hamburg, and Berlin. An ambitious itinerary featured a wide range of activities, including a visit to the German Parliament (or Bundestag, where Wong once interned), a meeting with the head of Stuttgart's urban planning department, a tour of the Audi factory, a visit to an energy-independent farming village called Freiamt, expert guest lectures, the Airbus factory, the DDR Museum, and other cultural tours and events.
In Berlin, students got to meet with a member of Parliament, where they also sat in a plenary session where laws are passed (something they once simulated in class). Students also talked with members of sustainability start-ups about entrepreneurship.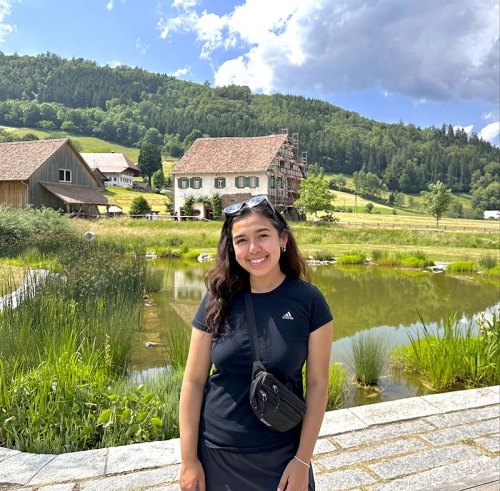 Penelopi Perez '23, a biology major from Chicago, was particularly excited to visit Freiburg, "the most sustainable city in Germany." There, she enjoyed listening to guest speaker and economics advisor Sara McLennan.
"We reviewed a number of environmental policies as well as case studies in Europe and Germany. For instance, alternative transport subsidies in Germany have enabled 65% of Freiburg residents to have a tram stop within 300 meters of their homes. As a result, Freiburg has the lowest car density of any city in Germany."
Perez says she was motivated to apply to this course because it dealt with the essential subjects impacting global sustainable development: governance and economics, environmental sustainability, and social sustainability. She has an interest in intersectional environmentalism, which has evolved into wanting to pursue a multidisciplinary career within the sustainability sector.
Masciarelli called the course "incredible and unforgettable." One major takeaway from the experience, for him, is understanding the kinds of attitudes that are necessary to implement the measures that Germany has championed.
"I've been reflecting on how we can bring ideas that are so revolutionary and put them together with the American Dream and find solutions that work for our country," he says.
Wong says he is exceedingly proud of this special group of students.
"The students were incredible in enduring such a packed and intense program by all measures," he says. "They took the material seriously and everyone was present at each and every event. The speakers and firms we visited were thoroughly impressed at the level of their engagement and the depth of their questions. It has been a privilege to lead them through Germany."
The course culminated in a set of presentations in which groups of three students pitched an idea or solution to a sustainable development challenge they encountered in Germany. This allowed them to synthesize their political economy knowledge, first-hand experiences in the field, and the many conversations they had with experts and stakeholders alike.
"It is my hope that Oxy students will become part of the new generation of leaders in transatlantic sustainability cooperation," Wong says. "We need them now more than ever."