Submitted by kwall_admin on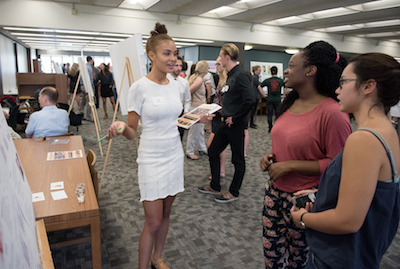 More than 100 vacation-averse Occidental students spent 10 weeks this summer fishing for anchovies off the California coast and feeding rats chocolate chips as part of Oxy's undergraduate research program.
August 3 saw the culmination of their efforts during the day-long Summer Research Conference, when the 103 student scholars presented their research in the form of 20-minute talks and poster presentations on campus. Research topics ranged from carcinogenic liver flukes in Thailand to wage theft to the search for dark matter.
"This may be the students' first experience presenting their scholarly work in a public setting, and it may be the culmination of years of effort," says Scott Bogue,
 director of Sponsored and Undergraduate Research and professor of geology. "We are very proud of the work they have done, and hope that this experience will help set the stage for their life-long journeys as scholars and researchers."
Students worked alongside 56 faculty mentors. Disciplines represented included biochemistry, biology, politics, cognitive science, psychology, economics, physics, philosophy, kinesiology, critical theory and social justice, writing and rhetoric, music and geology.
Eclectic research topics included "What's the Buzz: Native Bee Diversity of Northeast Los Angeles"; "Making Amends: How the Holocaust Shaped American Refugee Policy"; and "Conscious and Unconscious Processes in Human Fear Conditioning." Some of the research these undergraduates are participating in, such as medical research, is potentially groundbreaking, with real-world applications.
"I had no idea how the research process worked," before participating this summer, said Juliette Beighle '18, a psychology major who worked with mentors Dale Chapman and Nancy Dess of the psychology department on her project, "Selection of Complex Foods in High and Low Saccharine-Consuming Rats." "I had no idea how to word things, how to write a scientific paper, how to do statistical analysis. Having firsthand experience of that was really great. I realized how much effort it takes to put together an experiment. It's really a community in that you're building on research that has been done before, and your work is contributing to future research."
Miranda Roethler '17, a biology major from Portland, Ore., spent the summer fishing for anchovies in San Diego Bay for her research project, "Effects of El Nino on Anchovy Populations in San Diego Bay," spending four days "sampling from dawn to dusk. It was really exhausting but a lot of fun." Examining three different anchovy species from four different locations in the bay, she didn't see an overall effect from El Nino, although different species showed different sensitivities, with Engraulis mordax showing the most susceptibility to the rise in ocean temperature, she says.
The unique summer research opportunity at Oxy, she says, "was sort of a test to see if I enjoy doing this, and I do. I plan to go to grad school and do more of this kind of research."
The objectives of the summer research program at Occidental are to sponsor faculty/student collaborative research; provide an academic alternative to nonacademic summer jobs; increase students' preparation for leadership roles in professions and/or public service; create an intellectual community with opportunities for interdisciplinary exchange; enrich the academic experience of the most capable and promising students; and encourage good students, especially students from underrepresented groups, to consider careers in the scholarly professions.
Fellows are expected to work full time on their research and are not permitted to hold other jobs during the fellowship period. They also attend workshops, lectures and other special events on campus. Support is provided by the College and by endowments, grants and gifts from many sources. The program is highly selective, and some preference is given to students who are completing their junior year and have had no prior summer fellowship support. Summer research fellows receive a stipend of $390 per week.
Occidental has supported undergraduate research for more than three decades, including all of the disciplines on campus — the arts, humanities, social sciences, and natural and physical sciences. The summer research program has helped place the College at the forefront of national liberal arts colleges. Sponsors of this summer's research include the Argonaut Creative Writing Fund, the Fletcher Jones Foundation, the Ford Foundation, the W.M. Keck Foundation, the National Institutes of Health, the National Science Foundation, the Will J. Reid Foundation and the Paul K. & Evalyn E. Cook Richter Trusts.