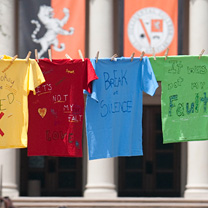 Occidental's 2015 "Take Back the Week" April 5-10 will explore intersectionality and sexual violence as student advocates seek to raise awareness that sexual violence affects everyone, regardless of gender, race or orientation.
The week-long series of programs and events will culminate on Thursday, April 9 with a traditional "Take Back the Night" rally featuring keynote speaker Dr. Marc Grimmett of North Carolina State University, executive producer and co-director of "My Masculinity Helps," a documentary that explores the role of African-American men and boys in the prevention of sexual violence.
Project S.A.F.E. also is rolling out its "Upstanders of Oxy" project, a series of short videos created by Oxy students currently enrolled in Dr. Broderick Fox's Projects in Documentary Video class. "Upstanders of Oxy" highlights the diverse and unique Upstanders in the Oxy community.
"While much of the focus of the national effort to combat sexual assault is appropriately on women survivors, we wanted to raise awareness at Oxy that men, members of the LGBT community, and children also are victims of sexual violence," says Karla Aguilar, Project S.A.F.E. program coordinator and prevention education specialist.
Project S.A.F.E. is a prevention and intervention support program dedicated to ending sexual violence on Occidental's campus. Project S.A.F.E.'s student program assistants provide resources, education and prevention programming related to issues of sexual assault, dating violence and stalking.
Preventative education is a critical component of Occidental's continuing effort to fight sexual assault. Thus far this year, Project S.A.F.E. has conducted more than 40 training sessions with over 30 student clubs and organizations.
Here is the "Take Back the Week" schedule:
Sunday, April 5, 7-8:30 p.m.
JSC Bengal Room
Consent, Abusive Relationships, and "50 Shades of Grey": A Discussion 
Discuss the implications of abusive relationships and stalking and the role media plays in possibly perpetuating/not perpetuating sexual violence.
Monday, April 6, 11:30 a.m.-1:15 p.m.
JSC Quad
Kick Off to Take Back the Week! Clothesline Project and Chalk the Quad
Building community and allowing students to become part of the movement through social media campaigns and resources/education and collecting free Upstander T-shirts and swag.
8 p.m.
Fowler 302
"Silent Survivor" Screening and Discussion on Child Sexual Abuse
with Amitha Swadhin, executive director, Los Angeles Peer Health Exchange
Acknowledging that 1 in 6 boys and 1 in 4 girls are victimized as children, it is important to recognize all survivors in our community.
Tuesday, April 7, 11:30 a.m.-1:15 p.m.
JSC Quad
Resource Fair
with Peace Over Violence, One Blue String Campaign/Guitar String Changing Table, Title IX, Emmons Student Wellness Center, Project S.A.F.E., Clothesline Project, Music by RAW Records
Become part of the movement. Learn how to volunteer and become a part of on and off campus partners.
7:30 p.m.
Fowler 302
Sexual Assault in the LGBT Community
Presented by the LGBT Center of Los Angeles
Wednesday, April 8, 11:30 a.m.-1:15 p.m.
JSC Quad
Community Open Canvas Project
Building healthy relationships and exploring the concept of healing through art and community.
6:30 p.m.
Mosher 1
"My Masculinity Helps" Screening and Q&A with Producer/Director Dr. Marc Grimmett
Thursday, April 9, 11:30 p.m.-1:15 p.m.
Lower Herrick
Peace Over Violence Self Defense Class
6:30 p.m.
Mosher 1
Take Back the Night Keynote speaker Dr. Marc Grimmett
(Sponsored by Remsen Bird Fund)
8 p.m.
Hillside Theater
Take Back the Night Speak Out
Friday April 10, 12 noon- Vans Leave
Reserve your seat! Trip to LA LGBT Center
to explore sexual assault and domestic violence resources provided by the center.
Co-sponsored by Alpha Lambda Phi Alpha; Peer Health Exchange; Office of Community Engagement; Queer Student Alliance; Public Health Club; RAW Records; Intercultural Community Center; Sigma Alpha Epsilon; Phi Kappa Psi; Kappa Alpha Psi; Black Student Alliance; Asian-Pacific Americans for Liberation; Delta Omicron Tau; Beauty Beyond Color; Art History and Visual Arts; Athletics; Rebellious Lawyering; and Remsen Bird Fund.