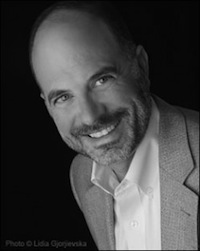 Charles Fishman, author of the bestselling The Big Thirst: The Secret Life and Turbulent Future of Water, will kick off a year-long, campuswide focus on the relationship between water and power when he speaks at Occidental College's 127th annual Convocation ceremony August 28.
An award-winning senior writer for business magazine Fast Company and a blogger for National Geographic, Fishman is a celebrated investigative journalist, specializing in business innovation and social responsibility. His Convocation address is scheduled for 9 a.m. in Thorne Hall on the Occidental campus.
The Big Thirst -- required reading for incoming first-year students -- examines how water resources will come to define this century. Just one year into its release, the book is a popular common read on college campuses.
Fishman helps redefine how we look at water, our most essential but in many ways most misunderstood resource. Fishman highlights water's vital role in the business sector (especially to businesses who seemingly have nothing to do with water), and points to the many contradictions of water in the developing world, leaving audiences with a hopeful vision of how current wasteful ways can be curbed through ingenuity and conscientious stewardship.
This academic year, Occidental is undertaking a new campuswide initiative that is organized around this critical resource, held to coincide with the centennial of the completion of the California Aqueduct. The theme of water and power in Los Angeles and the world will be infused throughout the curriculum, setting the stage for an integrated series of activities and events and prompting meaningful conversations about how we think about and address these challenges of water and power. For more information, email waterandpower@oxy.edu.
Globally, Occidental is joining the efforts of the United Nations International Year of Water Cooperation, which is intended to raise awareness on lacking water access for hundreds of millions of people around the world and to design collaborative solutions for more effective and sustainable management of water resources. Water and sanitation are also central to the United Nation's Post 2015 Millennium Development Goals.
Fishman prefers his water from the refrigerator spigot, with ice, or splashing across the bow of a Sunfish, according to his website.