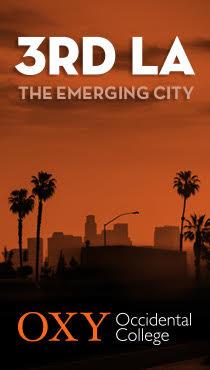 After a remarkably successful first year, Occidental College's Third Los Angeles Project is proud to announce a new round of public events for 2016.
Directed by Christopher Hawthorne, architecture critic for the Los Angeles Times and an adjunct professor of urban and environmental policy at Occidental, the Third L.A. Project is a platform for Angelenos to come together to discuss some crucial ways in which the city and region are changing, from new architecture and transportation networks to a new relationship between L.A. and the natural world.
All events are free and open to the public, although seating is limited and pre-registration is required for individual events. Registration will open two weeks before each event. Registration is now open for the first in the series, Turf Battles, on Feb. 17.
This year Occidental will be hosting conversations on subjects including the future of the lawn in an era of climate change, L.A.'s 2024 Olympic bid (and past Olympic hosting), and how digital services such as Lyft and Airbnb are reshaping the American city, among other topics. Panelists will include designer Elizabeth Diller, former New York City transportation director Janette Sadik-Khan '82, Lyft's director of transportation policy Emily Castor and South Los Angeles streets advocate Tafarai Bayne. The Third L.A. Project is also pleased to be co-presenting events this year with UCLA's Hammer Museum and San Francisco Planning and Urban Research (SPUR).
"There's a real appetite for this kind of conversation about the city and where it's going," Hawthorne says. "I think everybody has a sense that the city is in a major transitional moment. … There are some people who are really optimistic about what's coming; there are some who have a lot of anxiety about where the city is headed and what we're leaving behind."
The project is an example of Occidental's innovative, collaborative approach to learning that seeks to integrate its curriculum with the cultural and intellectual resources of Los Angeles. Along with the recent founding of the Institute for the Study of Los Angeles on campus and partnerships with the Huntington Library and Autry Museum, the Third L.A. Project is also emblematic of Occidental's ambition to drive the conversation about what it means to live and work in the second-largest urban area in the nation.
Please note: Some details and panelists for some of the events, including the students' choice panel on April 6, will be announced in the coming weeks. Stay tuned!
Third Los Angeles Project events for spring 2016:
Turf Battles: The Lawn in Los Angeles
Wednesday, February 17, 7:30 p.m.
Choi Auditorium, Occidental College
Streetfight: Janette Sadik-Khan '82 conversation with Christopher Hawthorne
A co-presentation with the Hammer Museum
Wednesday, March 16, 7:30 p.m.
Billy Wilder Theater, Hammer Museum
Three L.A.s, Three Olympiads
Wednesday, March 30, 7:30 p.m.
Choi Auditorium, Occidental College
Students' Choice
Wednesday, April 6, 7:30 p.m.
Choi Auditorium, Occidental College
City on Demand: Technology and the New Shape of American Urbanism
A special two-night co-presentation with SPUR in San Francisco.
Thursday, April 21 at the SPUR Urban Center, 654 Mission Street, San Francisco
Wednesday, April 27 at Choi Auditorium, Occidental College
For more information about Third L.A. or to register for individual events, please visit the Third L.A. website.