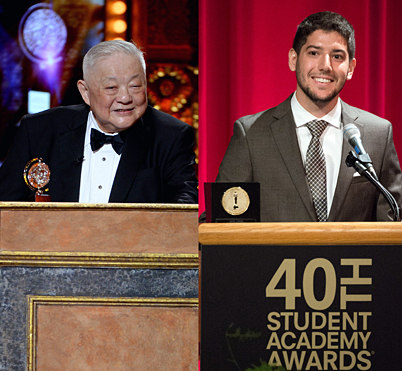 It was a winning weekend for Oxy in the arts, as theatrical set designer Ming Cho Lee '53 was given a lifetime achievement award at the Tonys and Raffy Cortina '13's film Bottled Up won gold in the Student Academy Awards from the Academy of Motion Picture Arts and Sciences.
In a pre-broadcast ceremony, Chinese-born Lee, a longtime professor at the Yale School of Drama, joked that he holds "the unbroken record of being a total failure in Broadway theater. I have more flops than anyone can count," adding, "I never thought I'd be 82."
Lee's modesty stems from the fact that most of his best-known work has been off-Broadway, for the New York Shakespeare Festival, the Metropolitan Opera, and other venues. He won a Tony for set design for K2 (1983), a play about two climbers stranded on the world's second-highest mountain, and was awarded the National Medal of Arts in 2003. His many students have spread his influence throughout the theater world.
Lee's first credit as a theater designer came at Oxy, for a 1952 production of The Silver Whistle. "Oxy changed my life," the speech major said in a 2003 interview with Occidental magazine.
Cortina received his Student Academy Award in the Alternative category at a June 8 ceremony at the Academy's Samuel Goldwyn Theater in Beverly Hills. Not only was he the first Occidental student to win an award in the 40-year-old national competition—he took first place.
A total of 15 student films were named winners in five categories. Cortina, an art history and visual arts major from the Bronx, is one of the few undergraduates and the only student from a liberal arts college among this year's honorees.
"It's nice to know that my decision to come to Oxy over a venerable film school could still result in a successful thesis film," he says. "I wanted a liberal arts education so I could learn how to think and communicate effectively. Luckily, four years at Oxy was enough to put me in a competition with graduate students in their mid-20s who focus exclusively on film. I'm proud of that." 
Bottled Up, which Cortina describes as a fantasy film about hopes and dreams, was filmed as his senior comprehensive project and made its debut April 12 at the Film Comps gala in Oxy's Thorne Hall.
Past Student Academy Award winners have gone on to receive 46 Oscar nominations and have won or shared eight awards. The roster includes such filmmakers as John Lasseter, Robert Zemeckis, and Spike Lee. See a clip of "Bottled Up" produced by the Oscars.