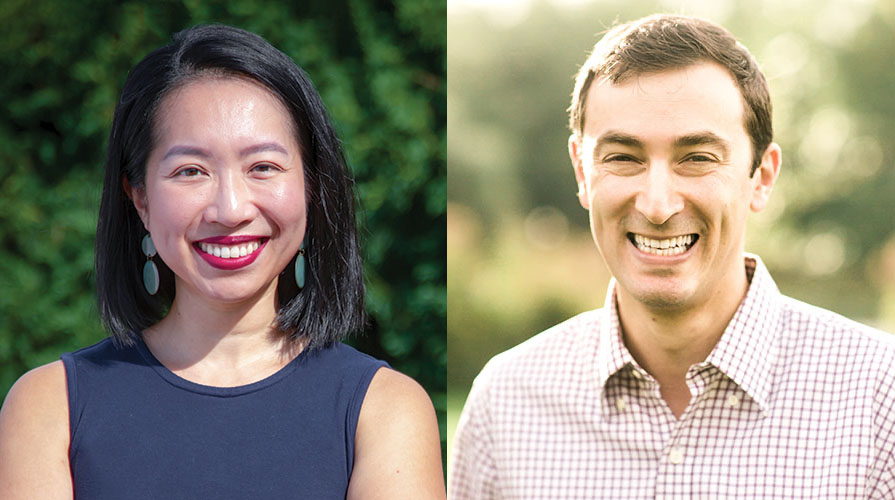 Two Occidental College professors are the recipients of Haynes Foundation Faculty Fellowships that will allow them to document the financial toll of the COVID-19 pandemic on local government and the impact of junior police academies on high school students.
Seva Rodnyansky, assistant professor of urban and environmental policy, and Mai Thai, assistant professor of sociology, both have been named Haynes Faculty Fellows to pursue research the Foundation defines as "well-conceived, imaginative, and breaks new ground on economic, social and political problems of the greater Los Angeles area."
With the aid of several Oxy student research assistants, Rodnyansky will conduct a "pulse check" survey of city managers and finance directors in the 184 cities and 216 school districts in Los Angeles, Orange, Riverside, San Bernardino, and Ventura counties to document the financial impact of the pandemic.
With the city of Los Angeles facing an estimated $675 million budget gap, "How are other, smaller and less well-prepared jurisdictions faring? What steps are agencies taking to mitigate the situation to try and balance their budgets?" Rodnyansky asks. "The most recent fiscal data across jurisdictions are from 2018—useless in making difficult and necessary policy decisions to address the crisis today."
The survey will build on Rodnyansky's current survey assessing the financial impacts of the pandemic on local government finance in Northern California, funded by the Chan-Zuckerberg Initiative. Early results are revealing: some 19 percent of responding agencies are unlikely to balance their budgets for the current 2020-21 budget year; 37 percent with access to a "rainy day" fund have dipped into it, and 23 percent plan to do so soon; and many already have deferred maintenance and cut services.
Thai's research—the first comprehensive social science study in the United States focused on junior police academies—also builds on previous work, in her case two years of fieldwork at junior police academies at several west coast high schools, funded by the Ford Foundation and the National Science Foundation.
"Many academies in the U.S. expanded following the 1992 Rodney King protests, especially in California," Thai said. For instance, the LAPD  has created academies in many Los Angeles Unified School District high schools, and similar programs can be found in San Bernardino, Riverside and Orange counties. The Haynes Fellowship will make it possible to document the educational, employment, and social-psychological impacts of the academies on their students.
Founded in 1926, the John Randolph Haynes Foundation supports social science research on major economic, political and social problems facing the greater Los Angeles area.