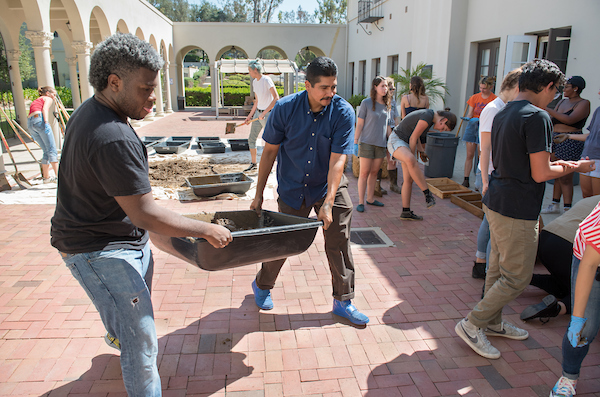 Rafa Esparza, the Wanlass Artist in Residence at Occidental College, has been selected to participate in the upcoming Whitney Biennial, generally regarded as one of the world's most prestigious exhibitions of contemporary art.
Esparza is one of 63 participants selected by curators Christopher Lew and Mia Locks for the 2017 Biennial at New York's Whitney Museum of American Art, which the New York Times calls a  "sprawling survey of what's happening now in contemporary art — the new, the influential and the potentially provocative."
"It's an important opportunity to have access to a national platform and be able to voice our works and engage with our artmaking, especially in this political climate," Esparza said after the participants were announced. "My work in many instances speaks directly to institutional racism, xenophobia, homophobia and misogyny. I intend to participate in this national conversation through my work."
The Whitney Biennial is the longest running survey of contemporary art in the United States, with a history of exhibiting the most promising and influential artists and provoking lively debate. The 2017 Biennial, set to open March 17, is the Museum's 78th in a series of annual and biennial exhibitions that began in 1932.
Esparza is the second Occidental-affiliated artist to participate in the Biennal. The work of painter and Occidental Professor of Art and Art History Linda Besemer was exhibited at the 2000 Biennial. "Being a participant in the Whitney Biennial was one of the highlights of my career as an artist," Besemer says. "It cannot be over-emphasized how widely viewed this exhibition is -- it garners a huge international audience."
Esparza, a Los Angeles native who received his BFA from UCLA, works in a variety of mediums, including installation, sculpture, drawing, painting and performance. In his Occidental residency, titles "Manos de Obra (Rituals in Land)," he is teaching students how to craft adobe bricks – a skill he learned from his father -- to be used in a temporary campus installation scheduled to open April 20.
"Rafa's work with our students has been transformative, and I'm confident it will continue to animate their learning across the curriculum," says Professor of Art and Art History Mary Beth Heffernan. "Rafa's investment in the course he is teaching is as generous and passionate as his stake in art, and he pursues both as sites of complex knowledge, resistance and freedom."
Esparza has engaged with students outside the classroom as well, says Oxy Arts Director Deena Selenow. "From his moving public lecture about the intersection of his art practice and manual labor in California, to sharing his adobe brick-making process through a free public workshop, and bringing his students to participate in The Hammer Museum's In Real Life performance series, Rafa has immersed himself in the Oxy community."
For the Whitney, Esparza will create a room made of adobe that will be used to display works by other participating artists, who work in painting, sculpture, drawing, installation, film and video, photography, activism, performance, music, and video game design. "I'm looking forward to taking up space and being in conversation with my peers," Esparza says.
The Wanlass Artist in Residence is a semester-long residency program that allows an artist to investigate aspects of their practice and share it with the College campus-wide. The program encourages cross-campus collaboration and thoughtful sustained interaction between artist and students.

The Wanlass Artist in Residence Program is made possible by generous support from the Kathryn Caine Wanlass Charitable Foundation.