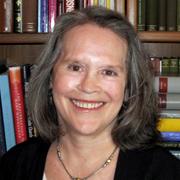 Harvard's Karen L. King will return to Occidental, where she began her academic career, to give a February 7 talk about her recent discovery of a fragment of Egyptian papyrus in which Jesus refers to "my wife." 
King's lecture, "Was Jesus Married? Early Christian Controversies Over Marriage, Celibacy and Salvation," will take place at 4:30 p.m. on Thurs., February 7 in Occidental's Keck Theater. King, the Hollis Professor of Divinity at Harvard, will discuss her recent discovery and consider what was at stake in these debates for Christian teaching about sexuality and desire. Her talk is free and open to the public. A reception will follow.
King has cautioned that the small papyrus fragment she unveiled in Rome in September is not proof that Jesus was married. The Coptic text was likely written long after Jesus' death, and all other early, historically reliable Christian literature is silent on the issue.
But her discovery is the first known text from antiquity that refers to Jesus speaking of a wife. It provides additional evidence that there was an active debate among early Christians about whether Jesus was celibate or married, and what that meant for his followers.
King, who was profiled in the New York Times in September, is well known for her contributions to the scholarship of early Christian history and literature. Her books include The Secret Revelation of John, The Gospel of Mary of Magdala: Jesus and the First Woman Apostle, What Is Gnosticism, and Revelation of the Unknowable God. Other publications include Images of the Feminine in Gnosticism (ed.) and Women and Goddess Traditions in Antiquity and Today (ed.)
King was a popular professor in the religious studies department at Occidental from 1984 to 1997 and also helped found the women's studies department, which she chaired for many years.
The event is sponsored by the President's Office as part of the Occidental College 125th Anniversary Distinguished Alumni speaker series, by the Remsen Bird fund, and by the religious studies department.
Directions and parking information can be found here. Keck Theater is No. 45 on the printable campus map (link on the webpage).