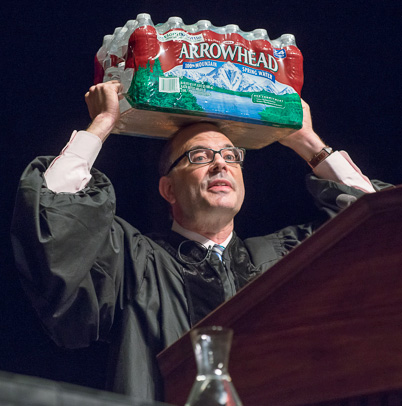 Charles Fishman, author of the bestselling The Big Thirst: The Secret Life and Turbulent Future of Water, kicked off a year-long, campuswide focus on the relationship between water and power in a talk at Occidental College's 127th annual Convocation ceremony August 28.
"The more water we have, the happier we are. Wet is the happy state of humanity," Fishman said, "summarizing" his book.
The Big Thirst -- required reading for incoming first-year students -- examines how water resources will come to define this century. Fishman spent three years traveling the globe researching how water resources are used –- and abused -- in locales as diverse as Las Vegas, Australia, Fiji and India. Just one year into its release, the book is a popular common read on college campuses.
In his talk, Fishman emphasized the importance of "showing up" when doing research, not just sitting in front of a computer. "We've come to think you can learn anything you need to know by sitting at a screen," he said. "Good journalists know there is incredible value in showing up. You can't get the smells, the textures, the stories, without showing up in person."
He used the story of the genesis of his book –- a chance encounter with bottled water in a hotel room –- to emphasize the importance of what he called silly questions. "I'm a big fan of silly questions," he said. "Asking questions will lead you down the path to action … Ask silly questions. That's how you will change the world."
He also urged the Class of 2017 to start tackling the global water problem locally by asking questions about their own campus' water use –- such as why certain sprinklers "water" sidewalks and why College buildings don't capture rainwater to use for irrigation or to recharge the local acquifer.
An award-winning senior writer for Fast Company and a blogger for National Geographic, Fishman is a celebrated investigative journalist, specializing in business innovation and social responsibility.
This academic year, Occidental is undertaking a new campuswide initiative organized around the critical resource of water, held to coincide with the centennial of the completion of the California Aqueduct. The theme of water and power in Los Angeles and the world will be infused throughout the curriculum, setting the stage for an integrated series of activities and events and prompting meaningful conversations about how we think about and address these challenges of water and power.
Globally, Occidental is joining the efforts of the United Nations International Year of Water Cooperation, which is intended to raise awareness on lacking water access for hundreds of millions of people around the world and to design collaborative solutions for more effective and sustainable management of water resources. Water and sanitation are also central to the United Nation's Post 2015 Millennium Development Goals.
Fishman prefers his water from the refrigerator spigot, with ice, or splashing across the bow of a Sunfish, according to his website.
He concluded his Convocation remarks with: "Show up. Bring your own water bottle."
For more information, email waterandpower@oxy.edu.