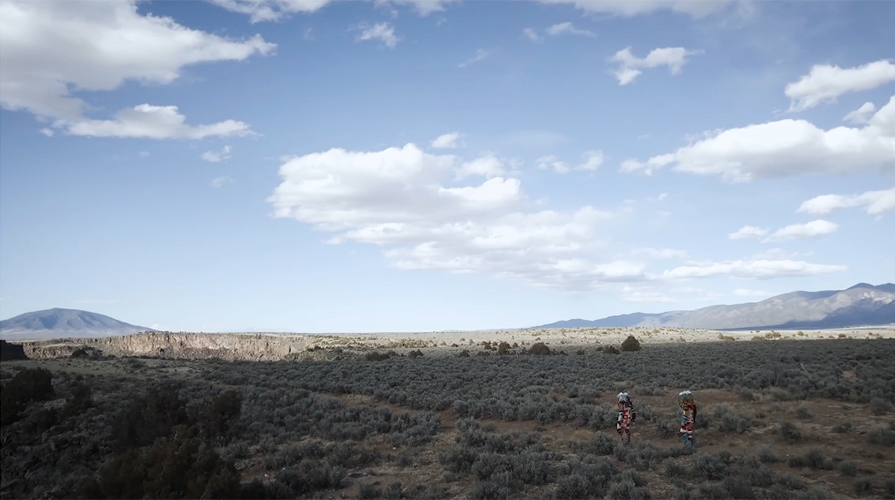 Oxy Arts' Fall 2020 exhibition WE LIVE! Memories of Resistance brings together 14 In Plain Sight artists that engage the contemporary stakes of historical remembrance and collective memory.
Image Credit: Still from Future Ancestral Technologies: WE LIVE, 2019, Cannupa Hanska Luger
Take a 3D Tour of the Exhibition
Participating artists: Felipe Baeza, Margarita Cabrera, Sonya Clark, Beatriz Cortez, In Plain Sight Coalition, Sky Hopinka, Cannupa Hanska Luger, Alberto Lule, Maria Maea, Karen Martinez, Guadalupe Rosales, Dread Scott, Tina Takemoto and Devon Tsuno.
Curated by Kyle Stephan and Paulina Lara
Public programming taking place from September 14 through November 29 will include an online film series, zoom workshops, artist talks, and live streamed performances. The exhibition will initially be virtual, with an online 3D virtual gallery, video documentation and digital activations.
Over Independence Day weekend, IN PLAIN SIGHT, a national coalition of 80 artists, activists, and organizers, chartered a fleet of planes to type poetic and impactful messages in the sky over ICE detention centers, former government-run incarceration camps, border patrol stations, and immigration courts across the United States. Phrases such as "ABOLITION NOW," "GOD BROWN AMERICA," and "NOS VEMOS LIBRES" offered recognition and hope to detained community members while exposing the vast scale of our immigrant detention system that hides "in plain sight" beyond public consciousness.
WE LIVE! Memories of Resistance brings together In Plain Sight artists that engage the contemporary political stakes of historical remembrance and collective memory. Employing a diverse range of formally innovative creative practices, their artworks transport viewers through pasts, both real and imagined, to propose a future beyond white supremacy, settler colonialism, and the brutality of policing and punishment. Some artists manipulate materials or mine archival documents to expose the intergenerational reverberations of racism and state violence, while others invite community collaboration to reconstruct histories of resistance and to heal traumatic loss. Still others incorporate ancestral myths, histories, and knowledge to recognize the resilience of oppressed communities and to design speculative spaces of possibility, protection, and belonging.
By embracing memory as a living source of reinvention and transformation, these artists scrutinize the underlying conditions of immigrant detention to inspire acts of resistance that challenge our culture of incarceration and racial injustice.
---
Related programming (all times in PST)
Sept 17 | 6pm
Collective Memory and Intergenerational Music
Panel Discussion with Cumbiatón Collective
DJ Set with DJ Funky and DJ Sizzle
Sept 24 | 5pm
Another Dimension: Reinventing Public Art and Activism with Emergent Technologies
Artist Talk with Nancy Baker Cahill
Oct 8 | 11am
Healing Intergenerational Trauma with Internal Martial Arts 
A workshop with Yunuen Rhi
Oct 15 | 5pm 
Narcissister Organ Player (Dir. Narcissister)
Filmmaker Introduction and Post-Screening Q&A 
Oct 21 | 5:30pm
Screening of The Infiltrators
Post Screening Q&A with Alex Rivera and Cristina Ibarra
Oct 22 | 5pm 
Artist Talk and Discussion with Dread Scott
Oct 28 | TBD
Déjenme Gritar (Let Me Scream)
Performance by Dorian Wood + La Victoria
Nov 4 | 5:30pm
Screening of maɬni – towards the ocean, towards the shore 
Post-Screening Q&A with Sky Hopinka
Nov 12 | 5pm
Kenturah Davis in conversation with Felipe Baeza
Nov 20 | 7pm
Sama: The Divine Listening Room
Audio Visual Presentation by Arshia Fatima Haq / Discostan 
This program is made possible by the Remsen Bird Fund and the Arts and Urban Experience Initiative, which is generously funded by the Andrew W. Mellon Foundation.