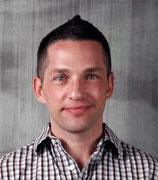 Broderick Fox, associate professor of art history and visual arts at Occidental College, has been named one of 12 California artists to receive a 2014 Artistic Innovation grant from the Center for Cultural Innovation. 
The funds will go toward a portion of the post-production costs for his current documentary project, Zen & the Art of Dying.
"Zen & the Art of Dying profiles how a woman, Zenith Virago, and her progressive community of Byron Bay, Australia, are seeking to return engagement with dying and death care to their community," Fox explains. "The grant received from CCI will fund final sound mix for the project, and it is great to know that aspect of post-production is covered. Beyond the money, however, it is incredibly gratifying to receive endorsement of a project in progress, as it buoys one to continue pressing forward creatively."
This is the second time Fox has been awarded funds for Artistic Innovation under the Media Arts category. He was previously awarded a grant in 2011 for his documentary project The Skin I'm In, which screened at film festivals worldwide.
The grants are awarded under CCI's Investing in Artists program, which is designed to build the personal and creative capacity of California artists working in all disciplines.
The Investing in Artists grants program was established by CCI in 2007. Since that time, CCI has awarded $1.8 million to 250 artists.
"It is a pleasure to acknowledge the superb work of these diverse and talented California artists," noted CCI President and CEO, Cora Mirikitani. "Supporting their artistic endeavors is not only incredibly gratifying, but also vital to the community."
Fox teaches courses in film and video production, narrative theory and screenwriting, documentary history and production, cinema aesthetics and themed theory-production seminars on subjects such as autobiography in film and video and representations of body, illness and dying, gender and sexuality in media.
His award-winning narrative, experimental and documentary works have screened internationally--theatrically, on television, at film festivals and online. He works as a film and video editor, and his critical writing has appeared in various anthologies and journals, including Film Quarterly and Spectator.
Fox's book Documentary Media: History - Theory - Practice is available through Pearson Press.  He received his bachelor's from Harvard and his doctorate from USC