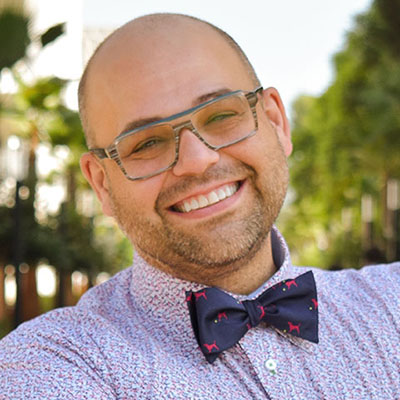 Vice President for Equity & Justice (VPEJ)
pronouns: he/they
Dr. Carreon Bradley, a native Angeleno, received his B.A. in physics with a minor in gender & women's studies from Grinnell College, and his Ph.D. in engineering from the University of Nebraska–Lincoln; he also recently completed his Ed.D. in organizational change and leadership at USC. They spent most of their faculty career at Vassar College where they became the first tenured faculty member of color in the Physics & Astronomy Department. While at Vassar, Dr. Carreon Bradley expanded his justice, equity, diversity, and inclusion administration work by serving as the senior diversity faculty-administrator, then moved into the Vice President for Inclusion, Diversity & Equity role at Smith College prior to returning to Los Angeles to serve in his most recent role as the Faculty Diversity Officer at California State University, Fullerton. As the VPEJ at Oxy, Dr. Carreon Bradley works at the institutional and strategic level to increase diversity and inclusion at the College, and to infuse equity and justice into everything all of us in the Oxy community do every day.
The VPEJ can be helpful with a wide variety of institutional and strategic JEID (justice, equity, inclusion, and diversity) issues. Examples of these types of issues include:
JEID-related policies and processes for the College
External fundraising opportunities for broad and impactful JEID initiatives
Synergizing cross-divisional JEID programming, events, and initiatives
Building infrastructure for JEID-related assessment
JEID issues related to faculty search and hiring
Other structural and strategic issues with JEID implications
To discuss any of these types of issues, please feel free to make use of the VPEJ Office Hours. If you are not available during office hours, you can e-mail vpej@oxy.edu to schedule an appointment.
Spring 2023 Office Hours: Thursdays 1:15-2:30pm (with the exception of March 9, March 22, and April 13)
Sign up for an appointment slot via Google Calendar and check in for office hours at the Office of Equity & Justice - AGC 108. All office hours will be held in person, unless alternatively confirmed as virtual (please email vpej@oxy.edu to convert your appointment to virtual format after signing up through Google Calendar). Walk-ins are also available during these times on a first-come, first-served basis. All students, staff, faculty, and other Oxy community members are welcomed to attend the VPEJ office hours!