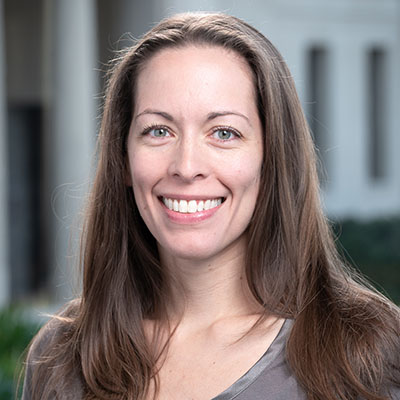 PAF Associate Production Manager
Marie is an '01 alum of Oxy, and began working for Performing Arts Facilities the very day after her graduation. She serves as the Associate Production Manager, overseeing on-the-ground operations of events in Thorne Hall and Keck Theater; working closely with Theater Department personnel to execute technical aspects of Theater productions; and -- along with Lead Technician Adam Roy -- training and supervising the Performing Arts Facilities Technician Crew, a team of student employees who are trained in all necessary technical elements to support events and productions. 
In addition to her work at Oxy, Marie serves as Crew Lead for Lineset 10 Incorporated, working on various live events and charity galas around the city. She also works as a freelance lighting technician for theater and television, including an annual gig on the Rose Parade for KTLA, and does occasional line producing for such live events as the Oakwood School benefits at the Theater at Ace Hotel and the Hollywood Palladium. 
She spends her precious free time with her husband Aly, an actor, and her son Rakhai, who loves coming to Oxy to visit whenever he can. She enjoys the creative challenges of cooking for a food-allergy household, visiting far-flung family whenever possible, and traveling to new and wonderful places. Her favorite trip so far has been her & Aly's 2016 honeymoon to summit Mt. Kilimanjaro, and she can't wait until her son is old enough to go back and do it again!