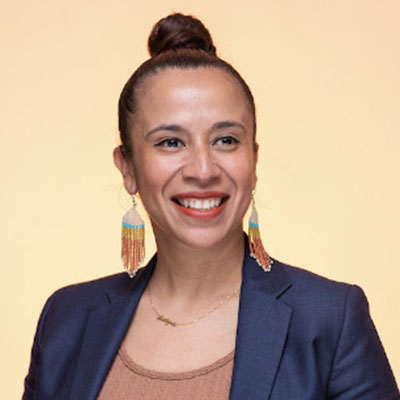 Director, Intercultural Community Center
Vanessa Gonzalez-Wright (she, her, ella) is a proud native of Highland Park in Northeast Los Angeles. Growing up a few blocks away from campus, her local community has always included Oxy. Vanessa is a Latinx Macro Social Worker focused on the impact of racism, and other forms of oppression, on the holistic health of historically marginalized communities. She is passionate about facilitating identity-affirming spaces to promote dialogue for healing and community building for students, faculty, and staff on college campuses.
Vanessa's liberation work started within nonprofits and community organizations focused on the development of BIPOC youth in Los Angeles. Her work led her to Baltimore City, where she attended grad school and continued to build community as a student organizer and social worker. Vanessa was instrumental in helping to implement more equitable policies at the University of Maryland, Baltimore School of Social Work; these efforts culminated in the university establishing an Intercultural Center on campus. From there, Vanessa would merge her love for community organizing models and higher education as she began her career as a scholar practitioner in student affairs.
Over the past six years, Vanessa has served in identity-based centers as Diversity Fellow at the University of Maryland, Baltimore, Gender Violence Prevention Educator at Johns Hopkins University, and most recently as the Assistant Director of the Center for Student Diversity at Towson University. Vanessa, a first-generation college student, received her Bachelor's Degree in Sociology from California State University Northridge and received her Master's in Social Work from the University of Maryland, Baltimore.
Schedule a meeting with me: https://calendly.com/vgonzalezwright2/meet