Meet Amy Holmes-Tagchungdarpa of religious studies, who teaches courses on Asian religions, especially Buddhism, and thematic topics related to sexuality and gender, cultural history, material religion and media, empire and politics.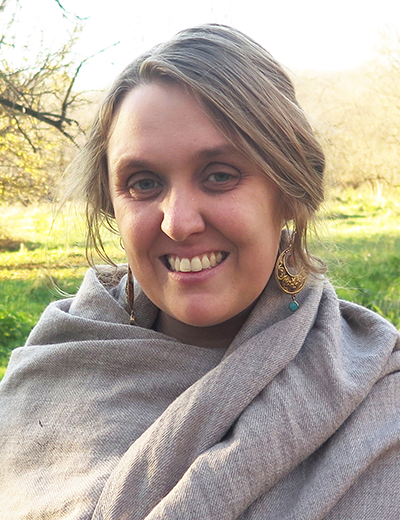 Tell us about the research you're working on right now.
Prayer flags, mandalas, prayer beads and serene Buddha statues are all objects and images synonymous with forms of Tibetan and Himalayan Buddhism. These are found around the world in museums and college dorm rooms, far from the high altitude places of their origin. Out of context, these objects have become rendered mundane through their circulation as capitalist commodities.
I am working on a book project that will situate Buddhist objects and artwork in their cultural and historical contexts as powerful objects that can act as agents, capable of generating blessings. I draw on a myriad of sources, including historical artist manuals and ritual texts plus ethnographic fieldwork with Tibetan and Himalayan communities in Tibetan areas of China, Bhutan, Sikkim, Arunachal Pradesh, Nepal and Ladakh to think about the relationship between ecological, economic and religious material worlds.
How do you incorporate your own research into your classes?
Being an active researcher inspires my teaching—it allows me to incorporate insights from living Buddhist communities into my courses. Sometimes, textbooks and academic articles don't capture the complexity, diversity and vibrancy of the lived experiences of Buddhist practitioners and people who they interact with. I am happy to be able to draw on my own interactions and experiences with Buddhist communities to enrich scholarly and popular representations.
What has been one of the proudest moments you've had with your students? 
When my students take an idea from class and venture out to explore their own questions—whether that be in terms of developing a formal research project, or even just in their interactions with people in the world—I feel happy to have maybe been able to have a part in contributing to those experiences.
How does Oxy's Los Angeles location influence or inform your teaching and research?
L.A. is home to an enormous number of Buddhist temples, monasteries and practitioners. It is an amazing place to be able to go and learn from Buddhist practitioners, which enriches my perspectives and makes me accountable to the people who I write and teach about and am in conversation with.
What are you doing when you're not teaching or researching?
Spending time with my family, exploring the hills and beaches around L.A., visiting new places and eating!