Meet Benjamin Weiss of sociology, whose research examines how organizational conditions shape experiences of and responses to gendered deviance and crime.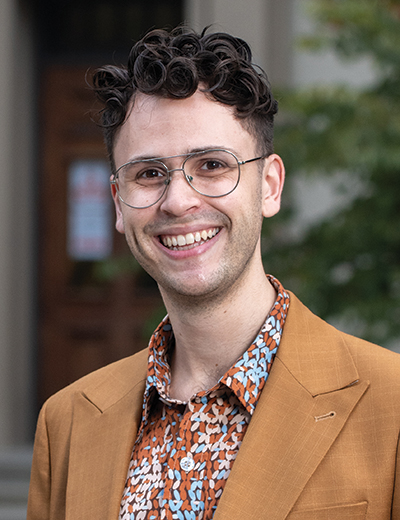 An Oxy alumnus, Benjamin Weiss '16 is an organizational ethnographer interested in how people come together to define and address social problems. A specialist in gender, crime, law and deviance, his current project explains the emergence and persistence of barriers to effective service provision in a rape crisis center, and the creative strategies workers develop to overcome them.
What attracted you to coming back to Occidental (and how did you choose Oxy as an undergrad)?
As a visiting prospective student, I found myself charmed by bucolic scenes of Oxy faculty walking and talking with students—an image of Professor Ford walking with a student near Booth Hall stands out in my mind. At Oxy, I formed strong relationships with academic mentors and got to participate in the post-class walk-and-talk. Now as a faculty member, I am excited to provide for my students the same empathetic and rigorous mentorship I benefited from so greatly as an undergraduate.
How has remote learning impacted your approach to teaching?
My students and I are getting better at online learning every day. Now that we know our individual computers' quirks—one student's microphone doesn't start working until five seconds after unmuting—our conversations have become quite natural and intimate. I've found that Oxy's seminar-style classes translate well to the online context since we have such small class sizes. Surprisingly, some virtual tools, like Zoom's chat function, actually enhance the educational experience, allowing students to ask and answer clarifying questions.
How have you been connecting to students?
I'm so impressed by my students' tenacity and good-naturedness. Despite their many challenges and disappointments, students are engaging fully, extending empathy to their peers and to me, and even sometimes laughing at my jokes. Although relationship formation is tougher in the virtual environment, we're getting to know each other quicker than I imagined. Students in my Deviance class, for example, already make fun of me for using ketamine as my example every time I bring up drug use.
What do you look forward to most about returning to campus?
The smell of the eucalyptus trees! And learning how tall all my students are—I've only met them from the torso up.
How does it feel to be teaching back at your alma mater?
It's a dream! Oxy is a special place and I'm thrilled to continue being a part of it. As to what's changed since I graduated? Not much – they're still renovating the grassy area near the fountain.