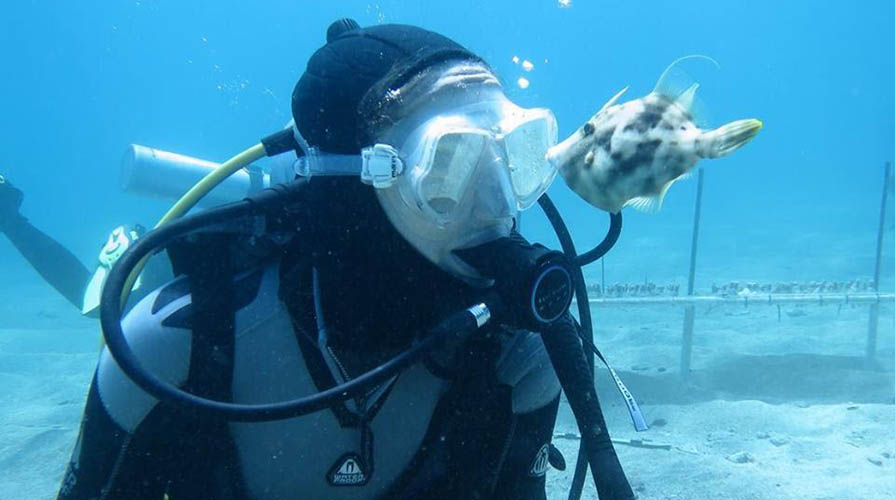 Ellen Goldenberg is about to defend her master's thesis in marine biology at Nova Southeastern University, where she's been working as a research assistant in the Coral Reef Restoration Assessment and Monitoring Lab.
I graduated from Occidental in 2015 with a degree in biology (marine biology emphasis). As a junior, I started working with Professor Dan Pondella at Oxy's Vantuna Research Group (VRG), and my senior year I worked as an AAUS scientific diver and conducted my own research on the life history of the California Corbina. The many field work and research opportunities I had through VRG—as well as my semester abroad in Australia—helped me to realize my true passion for marine biology.
Studying abroad was my one of my favorite college experiences. I spent a semester at James Cook University in Townsville, Queensland, where I discovered my love for coral reef ecology, made incredible friendships and had a blast discovering a new country. After graduation I moved to South Florida to pursue a master's degree in marine biology at Nova Southeastern University. I have been working full-time in the Coral Reef Restoration, Assessment and Monitoring (CRRAM) Lab with Dr. David Gilliam at the Nova Southeastern University Oceanographic Center.
Our research focuses on coral reef ecology and the protection of the reefs of South Florida, with an emphasis on the conservation of the threatened staghorn coral (Acropora cervicornis). Daily research activities range from collecting stony coral demographic data on scuba dives to writing scientific reports for government agencies. Having worked with VRG and gained experience as a scientific diver as an undergraduate student prepared me well for my position as a graduate research assistant.
The best part of working in the CRRAM Lab has been the diving. We dive up to five days per week working on a variety of stony coral monitoring and restoration projects. My personal favorite is the Nursery Project, in which we cultivate staghorn corals at two locations off the coast of Broward County. I enjoy coming to work each day because I know that our efforts are making a positive impact on the health of the local reef.
I am incredibly proud of my research activities that have taken me to conferences and field sites around the country and around the world."
For my thesis I am focusing on the fish assemblages on outplanted Acropora cervicornis in South Florida. Over the past two years I have had the privilege of presenting at several conferences, including the 13th International Coral Reef Symposium, the 46th Annual Benthic Ecology Meeting, the 38th Annual Association of the Marine Laboratories of the Caribbean Scientific Meeting, and the 38th Meeting of the U.S. Coral Reef Task Force. I am incredibly proud of my research activities that have taken me to conferences and field sites around the country and around the world. After graduation I plan to move to Oahu!
My advice to all current and future Oxy students is to take advantage of every opportunity available to you, be it undergraduate research or studying abroad. Both of these experiences have really set me apart in my career in terms of resumes, experience and interviews.