Meet Isaac Hale '11 of Politics, whose research agenda centers on how citizens hold elected officials electorally accountable.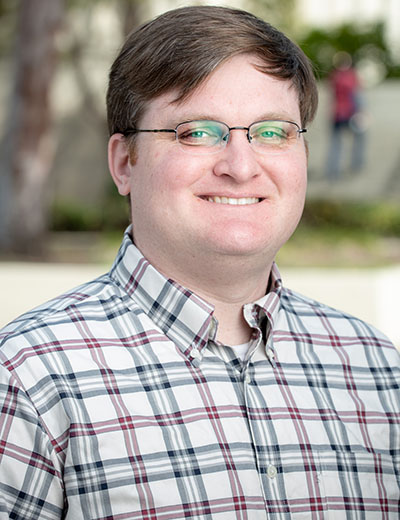 Hale comes to Oxy from UC Santa Barbara, where he was the Equity Research Postdoctoral Scholar with the Blum Center on Poverty, Inequality, and Democracy. A cum laude graduate of Oxy, where he majored in politics, Hale completed his Ph.D. studies in political science with a focus on American and comparative politics from UC Davis in 2020. He has published several papers analyzing how racial attitudes and electoral systems affect voter behavior and legislative representation, particularly in recent U.S. elections.
What is it like coming back to Occidental as a professor?
It's wonderful! The campus feels very familiar and the students, faculty, and staff have all been incredibly welcoming. The thrill of being on campus and running into mentors and professors from my time as an undergraduate has not worn off. Their passion and encouragement pushed me to become a political scientist, and it's a real privilege to pass that along to the next generation of students.
How has the student body changed (if at all) since your time as an undergraduate?
Honestly, the politics students I have in my classes are much as I remember them. Students are engaged, passionate, and incredibly smart. I think the biggest shift I've noticed is that students feel differently about American politics than when I was an undergraduate. I was a student at Oxy during the 2008 election, when there was a lot of optimism that structural change was coming. Students today are no less passionate about social justice, but I think there's a greater awareness that the obstacles to change are bigger than one election. I hope that my classes can help students think about what possibilities exist for institutional reform.
Can you talk about your research into how racial attitudes affect voter behavior and legislative representation?
I have written a number of papers that show that racial attitudes affect vote choice for Congress. I find that US voters with more conservative racial attitudes are less likely to support Democrats and Black candidates for Congress in elections since 2010. I have papers under review right now that show that racial attitudes also condition rates of political participation in the US and affect vote choice in Canadian elections. My research points to the centrality of racial attitudes in determining election outcomes and the quality of legislative representation that voters receive – even in an era where partisanship increasingly shapes political behavior.
In addition to your research, you document your favorite music on your blog. What are you listening to right now?
This week I've been enjoying the new singles from boygenius and Caroline Polachek. I've also been listening a lot to the most recent albums from Black Country, New Road; Jessie Ware; Little Simz; and Porter Robinson.