Meet Stephen S. Hudson of Music, a music theorist and baroque cellist who is also an emerging expert on metal music, focusing on fans and musicians' embodied experiences of rhythm, timbre, and song form.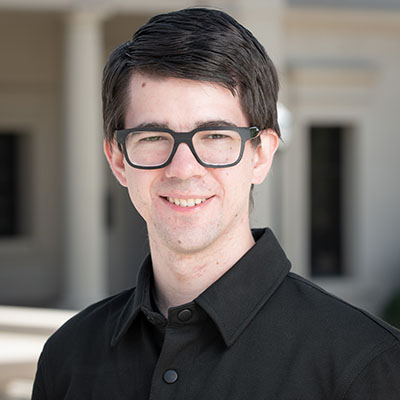 Hudson comes to Oxy from the University of Richmond, where he was a visiting assistant professor of music. A double major in music and mathematics at UC Davis, he completed his Ph. D. in music theory and cognition from Northwestern University in 2019. Hudson is currently writing a book titled Heaviness in Metal Music, as well as working on a project about harmony in R&B and Soul music. 
What attracted you to Oxy?
I was immediately impressed with the Oxy music department's success in recently developing a music production program. Music programs at small liberal arts colleges around the country are downsizing, but the music department at Oxy has doubled its number of majors in the last few years. I firmly believe that the music program at Oxy is a model for the future of music in academia, combining thriving current popular music practice with rigorous scholarly study of musical classics and comparative study of music traditions from around the world. I'm thrilled to work here because I think being a part of this program will put me at the leading edge of my field, so I can help find new ways for the field of music theory speak to songwriters and producers and bring insights from non-academic popular music experts back to the field of music theory.  
What are your impressions of the music community at Oxy?
The music community at Oxy is diverse and thriving and innovating. What other liberal arts college has their classical chamber music ensembles playing double programs of classics paired with hip student compositions? And a Grammy-winning composer whose music is played by major orchestras around the country and the world? And a charismatic master of Son Jarocho? And a trumpet faculty member who is a founding member of the jazz supergroup Snarky Puppy? And string faculty who are all in the LA Philharmonic? And a thriving pop music program with a professor of songwriting and a state-of-the art production facility? I could go on and on and on. It's a pretty inspiring group.
You are committed to developing new teaching approaches that diversify music theory beyond the classical canon and provide more tools for songwriters and producers. Can you expand on this idea?
A traditional "chromatic harmony" course would study only the European composers of the late 19th century. I've added a unit using jazz theory to study complex and multi-layered chords in contemporary R&B music, drawing from my own research including my latest publication, and about the harmonies in music by the superstar hip-hop/R&B artist Drake which should be published any day now in Current Musicology. A traditional course on musical forms would focus on the binary form dance types and sonata structures of the classical tradition; we're studying that too, but we also spend weeks on pop music traditions, studying how large-scale form emerges from myriad loops and layers in EDM, studying how death metal songwriters use drum patterns to orchestrate the visceral cycles of energy performed by their headbanging fans, and studying the latest innovations in verse-chorus structure by Lady Gaga and Billie Eilish. Many music students at Occidental are writing their own music, and I'm teaching them to get new songwriting ideas by digging into unfamiliar music and studying the greats.
Anything else you'd like to add?
What a cool city LA is! I've been having non-stop fun since I got here. It seems like every other street corner has a beautiful palm-tree-lined view of the hills, a cloudless blue sky overhead, or a glowing pink and orange and gold sunset peeking over the roofs. And don't get me started on the hipster bars and amazing taco trucks. The neighborhood around Occidental is super fun and I'm enjoying everything it has to offer.