Image courtesy of Yumi Pak
Meet Yumi Pak of Black Studies, whose research and teaching specializations include Black literary and cultural studies; critical ethnic studies; Black feminist theory; queer theory and queer of color critique; performance studies; U.S. multi-ethnic literatures; American literature; and American studies.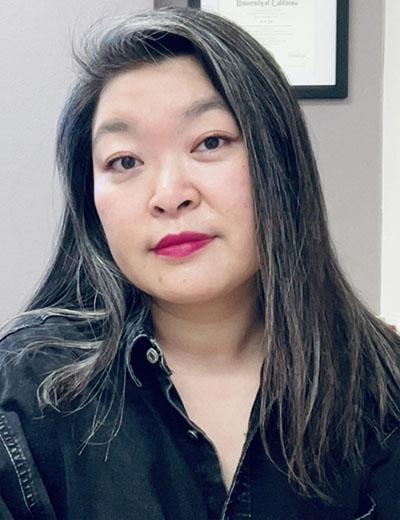 Pak comes to Oxy from Cal State San Bernardino, where she was associate professor of English and director of the Program of Ethnic Studies. Prior to her departure, she co-founded the Department of Ethnic Studies at CSUSB. She has a Ph.D. in literature from UC San Diego, a master's in literatures in English from UCSD, and a bachelor's in literature and women's studies from UC Santa Cruz. 
What attracted you to Occidental?
I was drawn to Occidental College for two primary reasons. The first is the emergence and establishing of a Department of Black Studies that prioritizes the intellectual, political and cultural labor at the heart of the discipline – the work that Black Studies does, rather than a static definition of what Black Studies is. The second is the Equity and Justice Agenda, which summarized my hope that I would be among colleagues who understood that a meaningful liberal arts education is only possible if we understand justice must be part and parcel of, rather than in addition to, serious intellectual query. 
What are your impressions of the students after your first semester?
The majority of students I've encountered here are curious and engaged with what I am working to build with them. In particular, as a first generation faculty member (who once was a working class, first generation college and graduate student), I've been struck by how students who share in one or both of these identity categories are so vulnerable, generous and patient with not only me, but with other students as well. 
Your studies examine a range of African American, Black Scottish, and Jamaican literatures and performances. Can you talk about the manuscript you're writing?
My manuscript examines the possibilities of Black liberation and transformative justice that are recognizable as Black feminist and queer alternatives to more mainstream and limited "achievements" afforded through institutional and state measures. The manuscript begins with Frederick Douglass' abolition tours in Scotland in the 1850s and then moves to the contemporary Scottish Independence Movement, the Great House Tours in Jamaica and finally, the battle to implement Ethnic Studies across the California State University campuses with AB 1460. I look specifically at archives, tour scripts, fiction, the form of post-rock music and the rhetoric of California legislation and, in doing so, think critically about how Black cultural producers expand our definitions of literature and performance. 
At the same time, the manuscript takes up the tension of intellectual responsibility and reciprocity, particularly around the supposed distance between the scholar, researcher, autoethnographer, student of Black literary and cultural studies, and the communities to which they are beholden. In other words, I can't theorize what Black liberation and transformative justice look like without addressing how I, as a non-Black scholar of Black Studies, as a beneficiary of the structures of antiblackness and settler colonialism, am produced – both within and outside of academia – through my venturing into spaces that are made open to me while remaining closed to others. 
In your teaching and research, you situate texts by Black cultural producers "as serious theorizings of the worlds we wish to build, the worlds that already exist." Is there a particular work that you like to use as a jumping-on point with your students?
I'm sure I'm not the only one who has a long list of people named and unnamed to whom I am indebted for how I think about the world! But if I have to limit myself to one, I think it is critical that we read Harriet Jacobs' Incidents in the Life of a Slave Girl (1861). In BLST 315 Black Feminist Movements, my students and I have just spent time discussing this text as a critical blueprint for Black feminist thought, and how our understanding of the conditions of possibility shift if we understand her as the political, literary and economic theorist that she was.