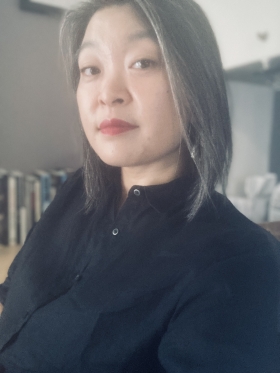 Associate Professor, Black Studies
B.A., University of California, Santa Cruz; M.A., P.h.D, University of California, San Diego
Hours
Wednesdays 10:00AM-11:30AM Thursdays 11:40AM-1:10PM and by appointment
Yumi Pak is a student, scholar and instructor of Black literary and cultural studies, particularly within the overlaps and interstices between the United States, Scotland and Jamaica.
Prior to joining Occidental College, Yumi was assistant/associate professor of English at California State University, San Bernardino, where she offered courses on select Black literary and cultural productions, Queer of Color Critique, Black Feminist Theory and Performance Studies. She also held an appointment as director of Ethnic Studies, a long-standing program at CSUSB. In 2022, she co-founded the Department of Ethnic Studies with Dr. Diana Johnson and Dr. Hareem Khan. She was visiting assistant professor of Africana Studies at Hamilton College in Clinton, New York, during the 2013-2014 academic year.
In her teaching and research, Yumi has a reading practice that situates texts by Black cultural producers as serious theorizings of the worlds we wish to build, the worlds that already exist. She is currently at work on her book manuscript, which examines a range of African American, Black Scottish and Jamaican literatures and performances. Through her analysis, she explores the liberatory imaginings for transformative justices that are recognizable as Black feminist and queer alternatives to the limited narratives of possibility afforded through institutional and national measures. Her previous writing can be found in various publications, including Lateral: Journal of the Cultural Studies Association, Women, Gender & Families of Color; AMSJ: American Studies Journal and Dismantle Magazine.