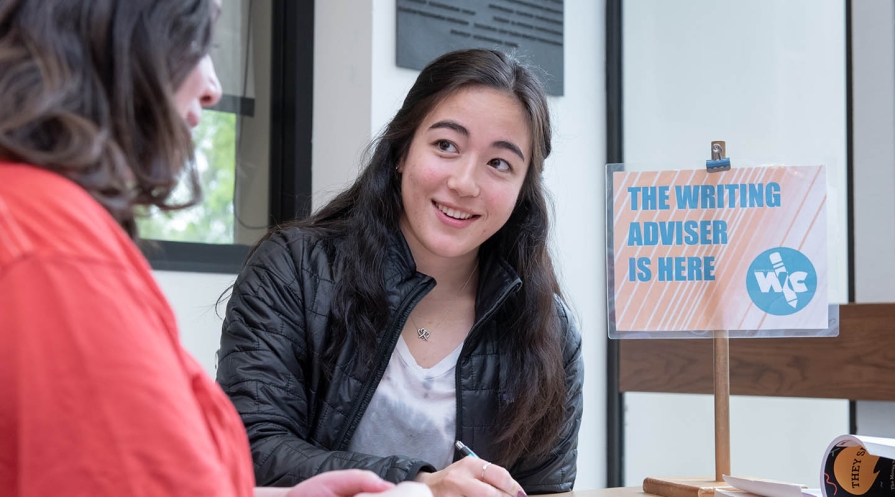 The Writing Center offers students from all disciplines two types of support to work on their writing: peer-to-peer, drop-in consultations with knowledgeable Writing Advisers and appointments with Faculty Writing Specialists from the Writing and Rhetoric department.
Who We Are
We collaborate with students in one-to-one writing sessions to help them learn strategies to improve their writing. We will offer suggestions and pose questions that aim to provoke analysis of a student's own ideas, help students respond effectively to course writing assignments, and assist a student's overall growth as a writer. We welcome students at any stage of the writing process, from generating ideas to final revision, and at any point in a student's academic career, from first semester through senior comprehensive projects or preparation for graduate school and fellowship applications.
What We Do
Help unpack or figure out assignment prompts.
Brainstorm ideas for writing assignments or tasks.
Help organize or clarify ideas.
Talk through and help strengthen a topic, a thesis, or an argument.
Determine if claims or points need further development.
Teach how to cite sources and correct documentation.
Provide instruction in usage, grammar, and punctuation.
Work with students on all types or genres of texts, including:

Research papers
Argumentative and expository essays
Lab reports
Materials for presentations
Personal/Fellowship statements
and more!