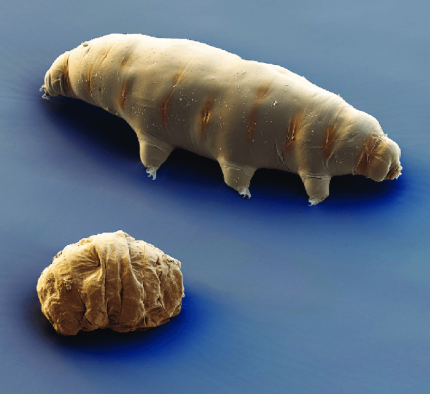 The Spring 2020 Biology Seminar Series continues with Candice Crilly's talk, "Piecing together the puzzle of tardigrade desiccation tolerance using nuclear magnetic resonance and fluorescence microscopy."
Oxy alum (2016) and PhD candidate in the Dept. of Chemistry at the University of North Carolina
Tardigrades (a.k.a. waterbears, moss piglets) comprise a phylum of microscopic animals that can survive an amazing array of environmental stresses, from extreme temperatures and pressures to near complete dehydration. Recently, the Pielak and Goldstein labs at the University of North Carolina at Chapel Hill found that a unique family of disordered proteins, called the Cytosolic Abundant Heat Soluble (CAHS) proteins, are necessary for tardigrade desiccation tolerance and sufficient to enhance the desiccation tolerance of other organisms up to 100-fold when heterologously overexpressed. Moreover, we have demonstrated that CAHS proteins form thermo-reversible, concentration-dependent gels that protect several enzymes from dehydration-induced damage in vitro. Yet to date the mechanism of protection of this unique family of proteins remains unknown. To elucidate the mechanism of protection of CAHS proteins, we are studying how protein stability and mobility are altered in the presence of high concentrations of CAHS proteins in vitro using 19F- and two-dimensional NMR methods. Our preliminary NMR studies have led us to a new hypothesis for the mechanism of protection of CAHS proteins, which we have begun testing using fluorescence microscopy and other biophysical techniques.
This seminar is at 12:30pm on Tuesday, February 25, 2020.