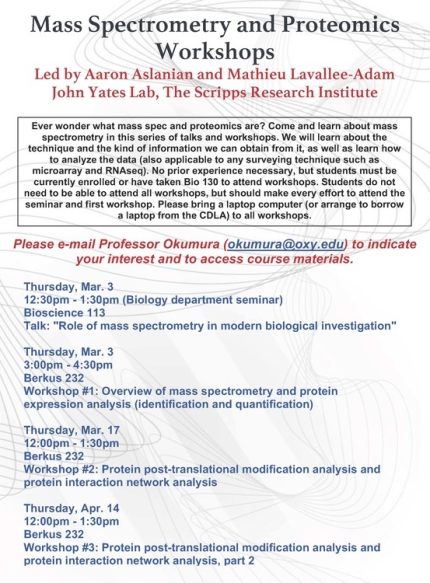 Ever wonder what mass spec and proteomics are? Come and learn about mass spectrometry in this series of talks and workshops. We will learn about the technique and the kind of information we can obtain from it, as well as learn how to analyze the data (also applicable to any surveying technique such as microarray and RNAseq). No prior experience necessary, but students must be currently enrolled or have taken Bio 130 to attend workshops. Students do not need to be able to attend all workshops, but should make every effort to attend the seminar and first workshop. Please bring a laptop computer (or arrange to borrow a laptop from the CDLA) to all workshops.
Please e-mail Professor Okumura (okumura@oxy.edu) to indicate your interest and to access course materials.
Thursday, Mar. 3 
12:30pm - 1:30pm (Biology department seminar)
Bioscience 113
Talk: "Role of mass spectrometry in modern biological investigation"
Thursday, Mar. 3 
3:00pm - 4:30pm
Berkus 232
Workshop #1: Overview of mass spectrometry and protein expression analysis (identification and quantification)
Thursday, Mar. 17
12:00pm - 1:30pm
Berkus 232
Workshop #2: Protein post-translational modification analysis and protein interaction network analysis
Thursday, Apr. 14
12:00pm - 1:30pm
Berkus 232
Workshop #3: Protein post-translational modification analysis and protein interaction network analysis, part 2