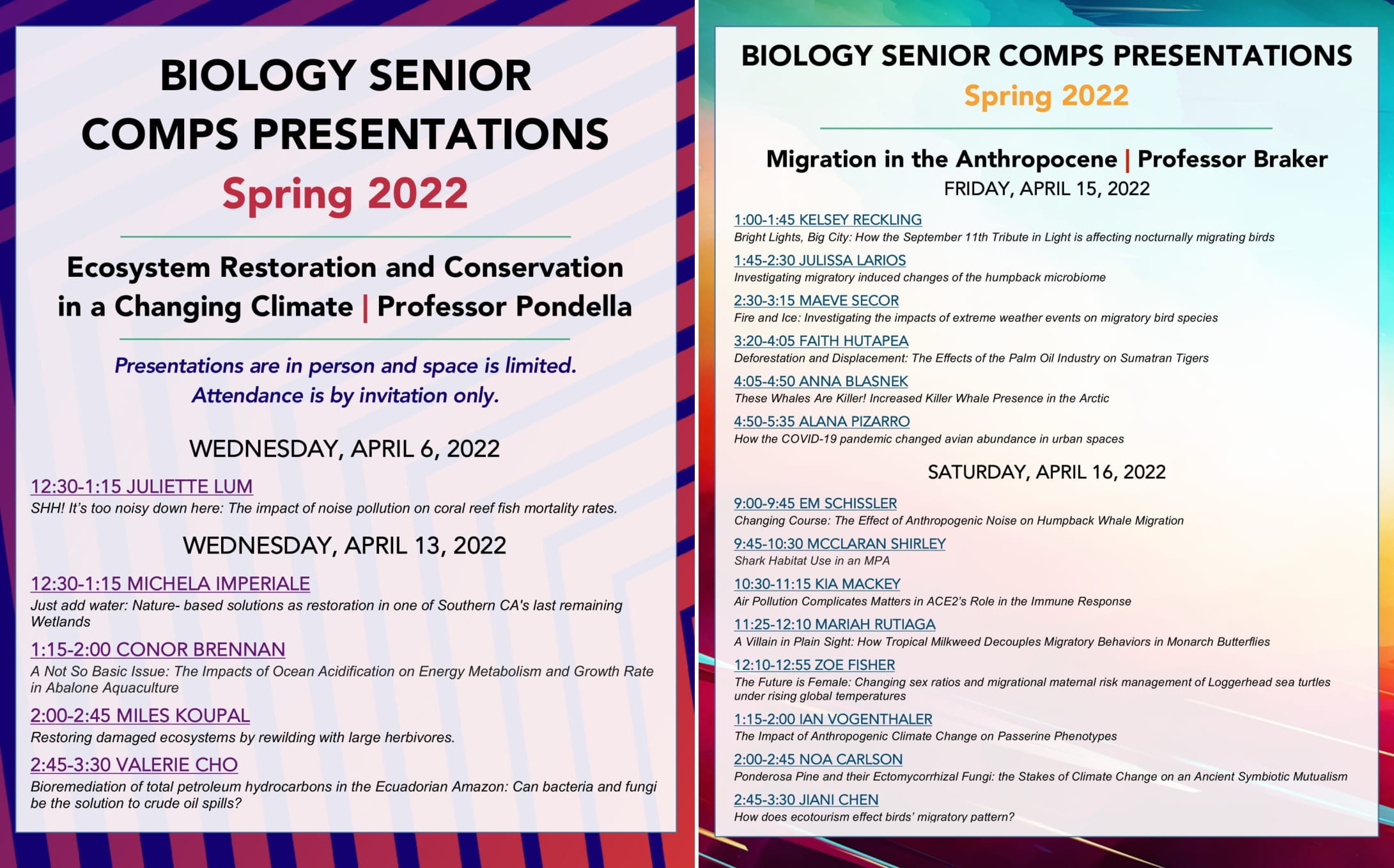 The Spring 2022 Biology seniors will be presenting their senior comps in person and via Zoom. 
BIOLOGY SENIOR COMPS PRESENTATIONS
Spring 2022
__________________________
Ecosystem Restoration and Conservation in a Changing Climate | Professor Pondella

Presentations are in person and space is limited.
Attendance is by invitation only.

WEDNESDAY, APRIL 6, 2022

12:30-1:15 JULIETTE LUM
SHH! It's too noisy down here: The impact of noise pollution on coral reef fish mortality rates.

WEDNESDAY, APRIL 13, 2022

12:30-1:15 MICHELA IMPERIALE
Just add water: Nature- based solutions as restoration in one of Southern CA's last remaining Wetlands

1:15-2:00 CONOR BRENNAN
A Not So Basic Issue: The Impacts of Ocean Acidification on Energy Metabolism and Growth Rate in Abalone Aquaculture

2:00-2:45 MILES KOUPAL
Restoring damaged ecosystems by rewilding with large herbivores.

2:45-3:30 VALERIE CHO
Bioremediation of total petroleum hydrocarbons in the Ecuadorian Amazon: Can bacteria and fungi be the solution to crude oil spills?
__________________________________________________________________________________________________________________________________
Migration in the Anthropocene | Professor Braker

Professor Braker's students will be presenting their senior comps via Zoom.
If you would like to watch any of the sessions, please reach out to oasin@oxy.edu.

FRIDAY, APRIL 15, 2022

1:00-1:45 KELSEY RECKLING
Bright Lights, Big City: How the September 11th Tribute in Light is affecting nocturnally migrating birds

1:45-2:30 JULISSA LARIOS
Investigating migratory induced changes of the humpback microbiome

2:30-3:15 MAEVE SECOR
Fire and Ice: Investigating the impacts of extreme weather events on migratory bird species

3:20-4:05 FAITH HUTAPEA
Deforestation and Displacement: The Effects of the Palm Oil Industry on Sumatran Tigers

4:05-4:50 ANNA BLASNEK
These Whales Are Killer! Increased Killer Whale Presence in the Arctic

4:50-5:35 ALANA PIZARRO
How the COVID-19 pandemic changed avian abundance in urban spaces

SATURDAY, APRIL 16, 2022

9:00-9:45 EM SCHISSLER
Changing Course: The Effect of Anthropogenic Noise on Humpback Whale Migration

9:45-10:30 MCCLARAN SHIRLEY
Shark Habitat Use in an MPA

10:30-11:15 KIA MACKEY
Air Pollution Complicates Matters in ACE2's Role in the Immune Response

11:25-12:10 MARIAH RUTIAGA
A Villain in Plain Sight: How Tropical Milkweed Decouples Migratory Behaviors in Monarch Butterflies

12:10-12:55 ZOE FISHER
The Future is Female: Changing sex ratios and migrational maternal risk management of Loggerhead sea turtles under rising global temperatures

1:15-2:00 IAN VOGENTHALER
The Impact of Anthropogenic Climate Change on Passerine Phenotypes

2:00-2:45 NOA CARLSON
Ponderosa Pine and their Ectomycorrhizal Fungi: the Stakes of Climate Change on an Ancient Symbiotic Mutualism

2:45-3:30 JIANI CHEN
How does ecotourism effect birds' migratory pattern?