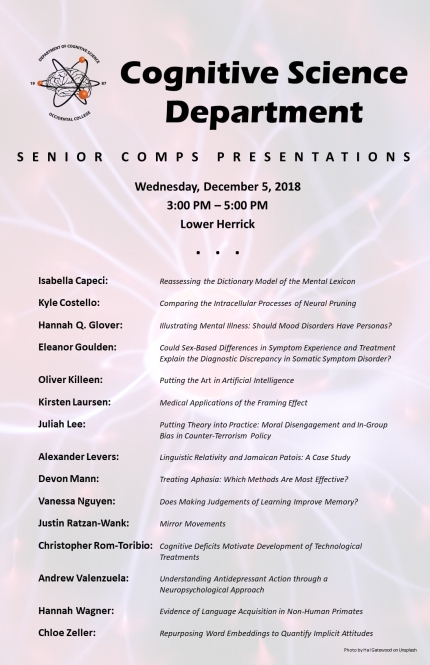 December 5, 3-5pm
Lower Herrick
Isabella Capeci: Reassessing the Dictionary Model of the Mental Lexicon
Kyle Costello: Comparing the Intracellular Processes of Neural Pruning
Hannah Q. Glover: Illustrating Mental Illness: Should Mood Disorders Have Personas?
Eleanor Goulden: Could Sex-Based Differences in Sympton Experience and Treatment Explain the Diagnostic Discrepancy in Somatic Sympton Disorder? 
Oliver Killeen: Putting the Art in Artificial Intelligence
Kirsten Laursen: Medical Applications of the Framing Effect
Juliah Lee: Putting Theory into Practice: Moral Disengagement and In-Group Bias in Counter-Terrorism Policy
Alexander Levers: Linguistic Relativity and Jamaican Patois: A Case Study
Devon Mann: Treating Aphasia: Which Methods Are Most Effective?
Vanessa Nguyen: Does Making Judgements of Learning Improve Memory?
Justin Ratzan-Wank: Mirror Movements
Christopher Rom-Toribio: Cognitive Deficits Motivate Development of Technological Treatments 
Andrew Valenzuela: Understanding Antidepressant Action through a Neuropsychological Approach 
Hannah Wagner: Evidence of Language Acquistian in Non-Human Primates
Chloe Zeller: Repurposing Word Embeddings to Quantify Implicit Attitudes