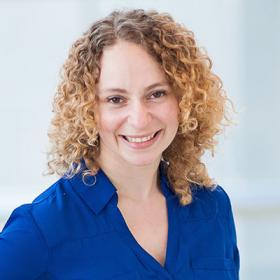 Congratulations to Dr. Aleksandra Sherman for receiving tenure through the 2019-2020 promotion and tenure process at Oxy.  Dr. Sherman has been promoted to associate professor, effective in the 2020-2021 academic year.
The Cognitive Science Department was thrilled with the announcement but not surprised, having this to say about her:
Aleksandra Sherman is a compassionate teacher, a rigorous researcher, and an active member of the Oxy community, working hard to uphold the mission of the College by developing and sharing inclusive pedagogies and mentoring practices. Her scholarship breaks new ground in the study of perception through its integration with neuroscience and aesthetics, and over the past five years, she has extended the traditional boundaries of teaching and scholarship into new, cross-disciplinary terrain. Since joining the department, she has significantly increased the rigor of the entire Cognitive Science academic program; students are able to pursue many more opportunities through Dr. Sherman's innovations—new kinds of research, new kinds of coursework, new community-based projects. The department's average number of majors has substantially increased over the period since her arrival, and students consistently praise her clarity, her enthusiasm, and her support.
In short: Dr. Sherman's presence at Occidental has been transformative not only for the department but the College as a whole. Our curriculum is stronger, our research opportunities are broader, and our connections to the community are tighter.
Students also share high praise of Dr. Sherman's commitment to her students and her abilities as an instructor, citing her mentorship and support as key factors in helping them to achieve success after Oxy:
Lani Cupo ('18), PhD student, Computational Brain Anatomy (CoBrA) Laboratory, Integrated Program in Neuroscience, McGill University, Montreal, Canada
"I am so proud to have worked with Professor Sherman during my time at Oxy! She is still an incredible inspiration to me--without her influence, I'm sure I wouldn't have thought to pursue a PhD, let alone a career in science and teaching. . . . Every class [I took with her] lived up to the high expectations set by the first one (COGS 101) . . . . I either took a class taught by Professor Sherman or worked as her TA every semester I was at Occidental, and it was my unique privilege to see how she grew as a teacher, embarking on bold ventures, such as her course "This is your brain on art" and improving her personal style to reach students from varied backgrounds and experience levels.
"[In addition to supervising me in directed research since my first semester at Oxy,] she also supervised me for a Summer Research Project and a Richter International Research award in Nepal. . . . I can confidently say that I would not have gotten to where I am today if it had not been for the support and leadership Professor Sherman showed me. Even as she works tirelessly to teach her students the course content, her impact ultimately stretches far beyond the walls of the classrooms, facilitating student growth beyond course material."
Emily Winfield ('17), Laboratory Manager, The Cole Neurocognition Lab, Center for Molecular & Behavioral Neuroscience, Rutgers University - Newark
"During my time at Oxy I enjoyed several courses with Professor Sherman, including a methods and statistics class that singularly prepared me for entering the research field. She incorporated a tangible passion for cognitive science, which I experienced very closely during our many hours working together on my Senior Honors Comprehensive project. Dr. Sherman's enthusiasm made research accessible to undergraduates, something I consider one of her most notable contributions to her students. It's uncommon for undergraduates to have the opportunity to conduct research, especially under direct mentorship from a professor. Dr. Sherman gave a seemingly endless amount of personal time and energy to furthering her students' research goals.
"After my graduation, Dr. Sherman continued to collaborate with and mentor me through presenting our research at an international conference, preparing a manuscript for publication, and guiding me through the submission and review process for scientific articles. She is currently mentoring me and advancing my scientific endeavors through a collaboration on a second research study, which speaks to Sasha's commitment to mentoring her students, far beyond their time at Occidental."
Robert Jertberg ('17), PhD Candidate, Faculty of Behavioural and Movement Sciences, Clinical Developmental Psychology, Vrije Universiteit Amsterdam
"When I first [got involved in the research taking place in Professor Sherman's lab], I was assisting with projects more senior students were working on, but soon had my own research questions that she helped me explore. Eventually, she encouraged me to develop one into a proposal for the Oxy Summer Research Fellowship, which I did (with a lot of assistance from her and Professor Levitan). The research fellowship was an amazing experience for me and was when I really decided that I wanted to pursue a career investigating the questions that kept me up at night.
"Over the course of the summer, Professor Sherman was a phenomenal mentor, who was always there when I needed help but also challenged me to develop the skills I needed to succeed on my own. A good example of this is with the programming required for my summer research project and subsequent thesis experiment. I had never taken a programming course or typed a line of code before the fellowship, but Professor Sherman insisted that I learn how to program the experiment myself. While this was a daunting prospect at first, she was always there to help when I hit a roadblock, show me tricks, and suggest alternatives when I was struggling. Ultimately, I was able to learn the programming language well enough to code the experiment and felt really empowered when it ran properly. This knowledge proved to be just as essential as she asserted it would be when I started the master's program from which I just graduated. One of the first courses we took was in programming, and I excelled in it to the extent that the professor approached me to offer me a position as his TA, which I attribute largely to the head start I got from Professor Sherman pushing me to learn to code and helping me along the way.
" . . . When I told [Professor Sherman] that I was interested in pursuing a career in science, she encouraged me to apply for a Fulbright Scholarship, and helped me with copious feedback while I drafted my application and provided what I can only assume was an excellent letter of recommendation, as I did in fact get the scholarship . . . . This is yet another example of her going far beyond her duties to support a student in a truly lifechanging fashion. Not only did she spend her own personal time outside office hours helping me with this application, she continued to stay in contact with me after graduation to help me get my undergraduate thesis experiment up to publication standards. Again, this meant putting in many hours of her own personal time to help me analyze the data from new angles, edit the document to the standard of an academic journal, and navigate the intimidating and complicated process of submitting, revising, and publishing a manuscript. Because of her assistance, the article was published by the first journal to which we submitted it with minimal revisions, which is incredibly uncommon for any article, especially one with an undergraduate as the first author. As I think this all illustrates, I have never had a teacher who was so willing to go above and beyond her responsibilities to support and inspire a student."