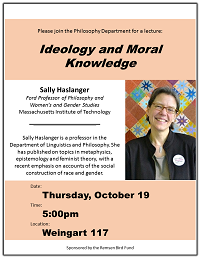 Dr. Sally Haslanger, Ford Professor of Philosophy and Women's and Gender Studies at the Massachusetts Institute of Technology, speaks about her research
"Culture, I argue, is a set of social meanings – what I call a cultural techne -  that shapes and filters how we think and act.  Problematic networks of social meanings constitute an ideology.  Such networks prevent us from properly appreciating what is valuable (and how it is valuable) and organize us in unjust ways.  Entrenched ideologies are resilient and are barriers to social change, even in the face of legal interventions.  If, under conditions of injustice, our cognition is shaped by ideology, how can we gain the moral knowledge needed to critique the culture that is the source of injustice?"
Sally Haslanger is a professor in the Department of Linguistics and Philosophy at the Massachusetts Institute of Technology. She has published on topics in metaphysics, epistemology and feminist theory, with a recent emphasis on accounts of the social construction of race and gender.