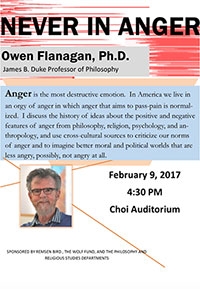 Owen Flanagan, Ph.D., James B. Duke Professor of Philosophy at Duke University, came to speak about the danger of anger
"Anger is the most destructive emotion. In America we live in an orgy of anger in which anger that aims to pass-pain is normalized. I discuss the history of ideas about the positive and negative features of anger from philosophy, religion, psychology, and anthropology, and use cross-cultural sources to criticize our norms of anger and to imagine better moral and political worlds that are less angry, possibly, not angry at all."
Flanagan earned his Ph.D. from Boston University and his B.A. from Fordham University.