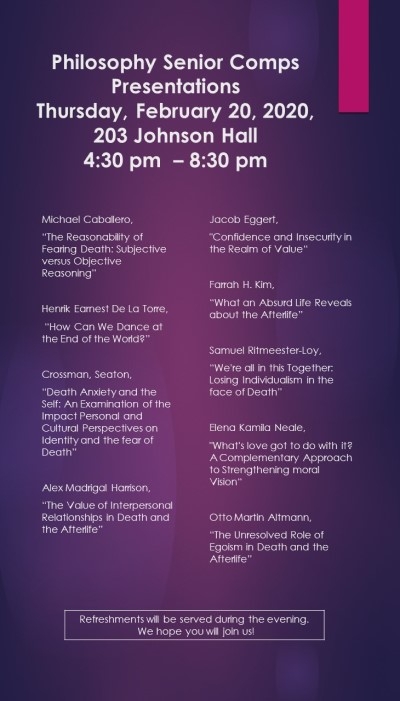 Come join the Philosophy Department as the Seniors present their comps projects based on Death and the Afterlife by Samuel Scheffler! Refreshments will be served during the evening.
Presentations include: 
Jacob Eggert: "Confidence and Insecurity in the Realm of Value"
Farrah H. Kim: "What an Absurd Life Reveals about the Afterlife"
Michael Caballero: "The Reasonability of Fearing Death: Subjective versus Objective Reasoning"
Henrik De La Torre: "How Can We Dance at the End of the World?" 
Samuel Ritmeester-Loy: "We're all in this Together: Losing Individualism in the face of Death" 
Seaton Crossman: "Death, Anxiety and the Self: An Examination of the Impact Personal and Cultural Perspectives on Identity and the fear of Death"
Elena Kamila Neale: "What's love got to do with it? A Complementary Approach to Strengthening Moral Vision"
Alex Madrigal Harrison: "The Value of Interpersonal Relationships in Death and the Afterlife" 
Otto Martin Altmann: "The Unresolved Role of Egoism in Death and the Afterlife"