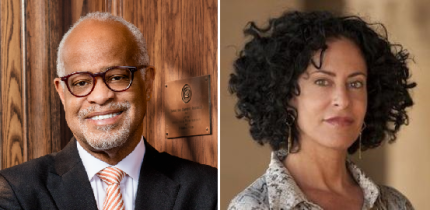 Join us to hear research talks by President Harry Elam and Dr. Michele Elam!
Friday, Sept 25, 3:30-5pm
Join Zoom Meeting: https://occidental.zoom.us/j/94184204351
Passcode: Research
Dr. Harry Elam has established himself as an internationally renowned scholar. He is the author and co-editor of seven books (including the award-winning The Past as Present in the Drama of August Wilson), as well as dozens of journal articles and chapters. The Association for Theatre in Higher Education awarded him its highest recognition, the Distinguished Scholar Award, and he is the recipient of the career Achievement Award from the American Society for Theatre Research. Moreover, Dr. Elam has directed for more than 25 years, winning numerous accolades for his professional work including Drama-Logue Awards for Best Production, Best Design, Best Ensemble Cast, and Best Direction.
Dr. Michele Elam, William Robertson Coe Professor in the Humanities in Stanford's English Department, is also a Faculty Associate Director at the University's Institute for Human-Centered Artificial Intelligence. Her scholarship includes three books to date, including The Souls of Mixed Folk: Race, Politics & Aesthetics in the New Millennium and The Cambridge Companion to James Baldwin, as well as numerous publications and op-eds for leading news organizations. She has Chaired the Modern Language Association division for Black Literatures and Culture as well as the MLA's American Literature Society, and is the recipient of several national awards for her research, including most recently the 2018 Darwin T. Turner Award for Outstanding Scholarship by the African American Literatures and Culture Society. Her current work explores intersections of race, arts, and artificial intelligence.
In their research talks, Michele will discuss Art and Artificial Intelligence and Harry will talk about playwright August Wilson and his legacy in contemporary African American theater. Join us for an intellectually lively event to welcome Harry and Michele into our scholarly community!