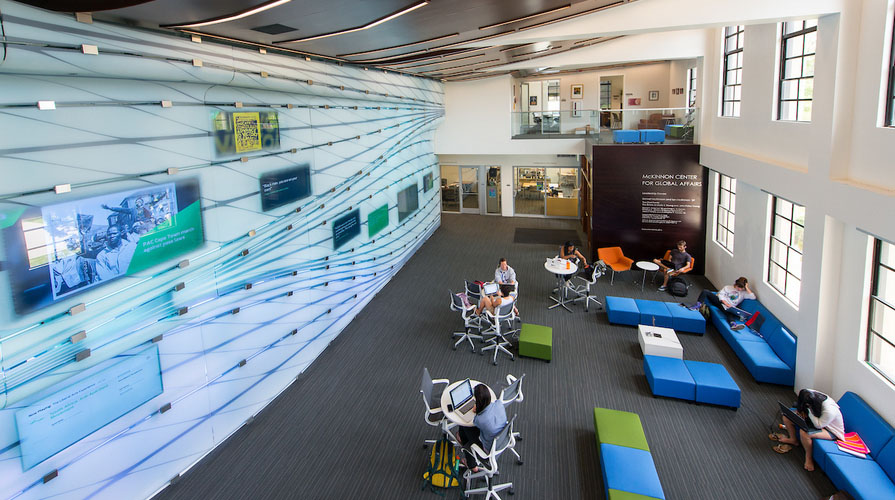 Ask questions, get support, and practice your language skills!
Language Advisers are Occidental students with extensive experience with language, while Visiting Language Assistants are exchange students who lead conversation class and also offer drop-in tutoring hours. 
Language Advisers and Visiting Language Assistants can help you:
Practice verbal language skills;
Practice pronunciation;
Discuss readings for better comprehension;
Discuss cultural, social or political issues relevant to the language of study;
Find and view current language materials in social media and other sources;
Work on particular needs by reviewing quizzes and exams;
Prepare for cultural events, karaoke performances, and open mics.
Drop-in Hours for Spring 2022
Hours and Locations for Drop-in Hours (Oxy log-in required). 
Ancient Greek
Emma Denend
Hi! I'm Emma and I'm a junior majoring in Comparative Studies in Literature and Culture. I have been studying Ancient Greek for two years now, and I started learning Latin a year ago as well. My hope is to continue studying Classics and literature in graduate school and ultimately go into education. In my free time I love to spend time with my dog Kona, read books, and needlepoint. I am a great resource for help with Ancient Greek, but I've also taken many CSLC classes and have been involved in the department for a while so I can help answer any questions you may have! And if you need help outside of my office hours, please email me: edenend@oxy.edu
Drop-in Hours: 
See link at top of page.
Arabic
Arabic support is not being offered during the 2021-22 academic year. 
Chinese
French
Elea Kayiranga Lionnet
Bonjour ! I am Elea and I teach French conversational classes here at Oxy. I am from Paris and French is my mother tongue. Teaching is for me a great way to connect with others.I will be glad to answer all your questions about French grammar, to help you improve your communication skills and to explore the French culture with you. Can't wait to meet and work with you. A bientôt!
Drop-in Hours:
See link at top of page.
German
Anne Werum
Hi, I'm Anne and I'm the German Language Advisor. I'm a Junior Biology Major and I'm considering Vet School after Oxy. I was born in Vienna, Austria and moved to Stuttgart, Germany when I was one year old. I grew up and went to school in Stuttgart before coming to Oxy. If you want help with grammar/vocab, just want to talk and work on speaking/pronunciation, or learn about some cultural differences, I'm always happy to help. If you're thinking of studying abroad here, I could share some things to do in Freiburg and Berlin. Also, my tiny fluff-ball of a dog will probably be hanging out during my advising hours, so come by if you want to meet him!
Drop-in Hours:
See link at top of page.
Japanese
Kentaro Takayama
Hello! This is Kentaro, a senior majoring in Economics. I am from Tokyo and your Japanese tutor for this semester. I am very excited to be able to help you in my language at Oxy.
I love learning languages as I've lived in different countries. I learned French during my high school days in Switzerland and also took Chinese for two years here at Oxy. I've been studying foreign languages for five years, and I understand the difficulty of learning a new language but how fun it is at the same time. If you need help with HW and essays, or just want to have conversations, I am always here for you to help. Also, if you are interested in studying abroad in Japan, I will be happy to share my information. Please feel free to reach out at any time. I look forward to seeing you!
Drop-in Hours
See link at top of page.
Latin
Hayden Osborn
Greetings to you, students of Occidental College! My name is Hayden, and I'm a senior this year. My major is Comparative Studies in Literature and Culture, and my minors are Classical Studies and Japanese Studies. I've been studying Latin for eight years, so if you ever find yourself in need of assistance with your declensions, conjugations, or any other such rhymes, I'm happy to help! I'll gladly give advice on any questions you have about departments and majors, too.
Drop-in Hours:
See link at top of page.
Russian
Hannah MacKay
Drop-in Hours:
See link at top of page.
Spanish
Kenji Montecinos
Bio coming soon!
Drop-in Hours
See link at top of page.
Daniela Sanchez
¡Hola! I'm Daniela and I teach the Spanish conversation classes. I was born and raised in Granada, a beautiful city in the south of Spain, so Spanish is my mother tongue. Spanish is a beautiful language with an incredible impact in the city of Los Angeles, but also in the whole world. Learning it can give you a different way of appreciating the world around you. In my classes you will improve your communication skills, your fluency level will increase and you will learn about different varieties of Spanish, all while having fun.
Drop-in Hours:
See link at top of page.
If you need help outside of these hours, feel free to contact Daniela directly at sanchezsanch@oxy.edu.
Questions about the program? Email Luz Forero at lforero@oxy.edu.