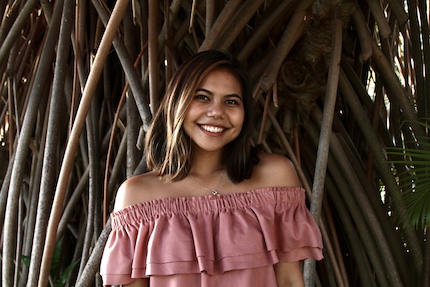 Ashley Nakagawa '21 was awarded a Fulbright-MITACS Globalink Scholarship to learn about the role caregivers play in supporting older adults to navigate the Canadian healthcare system.
Why did you choose to apply for this award?
I chose to apply for this award because it seemed like a great opportunity for me to challenge myself in graduate-level research, explore a potential career in public health research, and learn about the Canadian culture.
Briefly describe the work you will be doing on your fellowship.
I will conduct a scoping review synthesizing recent research findings on the role caregivers play to support older adults to navigate the healthcare system. This review aims to identify and describe the health literacy of rural caregivers specific to northern communities in Canada.
What are you most looking forward to during your time as a fellow?
I am most excited to learn about the Canadian healthcare system and use that knowledge to re-evaluate the American healthcare system. I plan to advocate for change to the healthcare system and, hopefully, get the opportunity to work with policy makers on implementing these changes.
How have your experiences at Oxy prepared you to apply for this award?
Oxy's small class sizes have enabled me to form close relationships with my professors. I am grateful to all of my professors and especially Dr. Schindelman and Dr. Duquette, who have been very supportive of my research endeavors.
What advice would you give future applicants about the application process?
I would encourage future applicants to convey passion in your application and carefully research the institution or program you are applying to. Also, choose recommenders that can write about strong qualities outside of academics (i.e., leadership roles) in addition to your academic strengths.