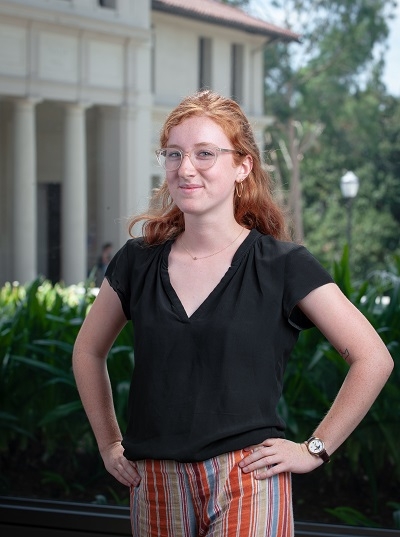 Cleo Charpantier '19 was awarded a Coro Fellowship to develop leadership skills while working in various organizations across Los Angeles.
Why did you choose to apply for this award?
I applied to the Coro Fellows Program because I was drawn to the experiential learning aspect of the program.
Briefly describe the work you will be doing on your fellowship.
Through this fellowship I will take part in field placements, seminars, leadership interviews, and focus weeks throughout the city of Los Angeles, intended to help me better understand the systems that influence how Los Angeles functions.
What are you most looking forward to during your time as a fellow?
I look forward to learning alongside a cohort of peers also seeking to learn how to be an effective leader and how to do good in our respective communities.
How have your experiences at Oxy prepared you to apply for this award?
I expect that my training as a philosophy student at Oxy will have prepared me to tackle the questions core to the Coro about the nature of public good with an open mind and eagerness to learn from varying perspectives.
What advice would you give future applicants about the application process?
For future Oxy students applying to Coro, I would advise spending a lot of time on your application essays and tailoring each answer to show a different facet of yourself. If invited to the Selection Day, I would recommend they do their best to keep their calm, stand their ground, and stay true to themselves throughout the day. At least that's what I did my best to do and it seems to have worked!