Ahead of graduation, seniors from the Class of 2018 reflect on the thoughts and feelings they encountered as they entered their first year at Occidental
Nervous, excited and everything in between ... as first-year students, seven members of the Class of 2018 share their memories of Oxy's orientation experience, and how they have matured after four years of classes, friends and life at the College.
Caleb Betts
Eli Chavez
Josie Pesce
Rosa Pleasant
Siyanna Ahmadu
Miki Konishi and Christopher Thaxton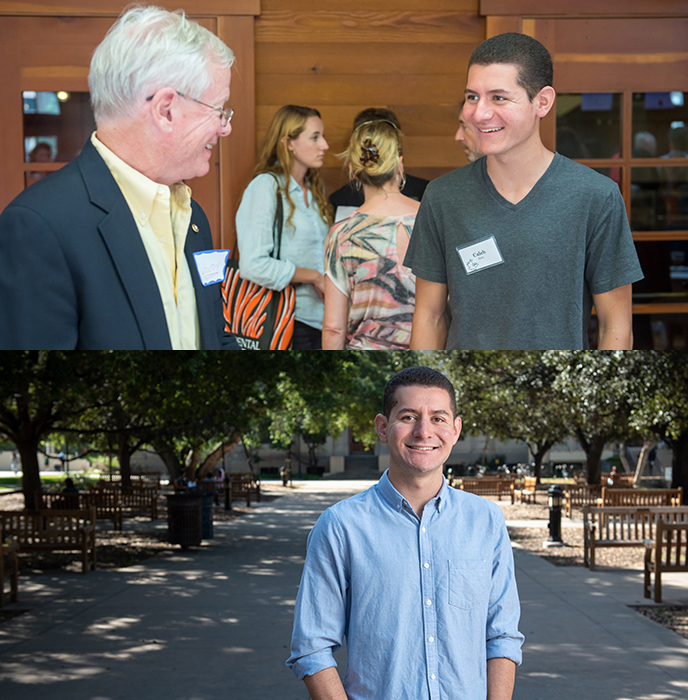 At the academic fair in 2014, Caleb Betts '18 was not looking for info on the politics department. A radical shift in perspective during his sophomore year has Caleb now focused on law school.
Caleb Betts, Aliso Viejo, Calif.
Politics major
I remember being overwhelmed with all sorts of fairs and meeting people in my res hall. The high school I went to was really small (my senior class was 23 students). I was excited to be in a larger setting and getting to know everyone on campus, but I'd be lying if I said I wasn't anxious. The community in Stewie [my first-year res hall] was so strong, though. I haven't been in a dorm community like that since. Beyond Stewie, the Intervarsity Club here at Oxy was really where some of the deepest relationships I've made have happened.
My understanding of my relationship to the world has radically shifted. My sophomore year, I began studying politics and started to understand how broken a lot of policies are and how even laws with good intentions have hurt a lot of communities. Going into the reality of downtown L.A., specifically Skid Row, and seeing the personal stories from these broken policies was also important. I read Just Mercy by Bryan Stevenson, about criminal law and the injustice there, and that actually motivated me to look into law school seriously. I definitely did not plan on majoring in politics coming here, but that's what ended up happening, and I'm really grateful for it.
I wasn't expecting to fall in love with Los Angeles as much as I have. I had a paradigm shift my sophomore or junior year where I started referring to Oxy like, "I'll be going home." I realized that I wanted to at least spend the next chapter of my life after graduation in L.A., because there is so much I could learn that I haven't necessarily been learning in Orange County (where I grew up). My perspective in terms of learning and gaining knowledge has become, "How is this going to benefit marginalized communities down the road? How am I going to take these resources I've been given and distribute them to communities that have been systemically left out of the process?" Hopefully after a year or two of working, I'll end up going to law school to keep moving toward that dream.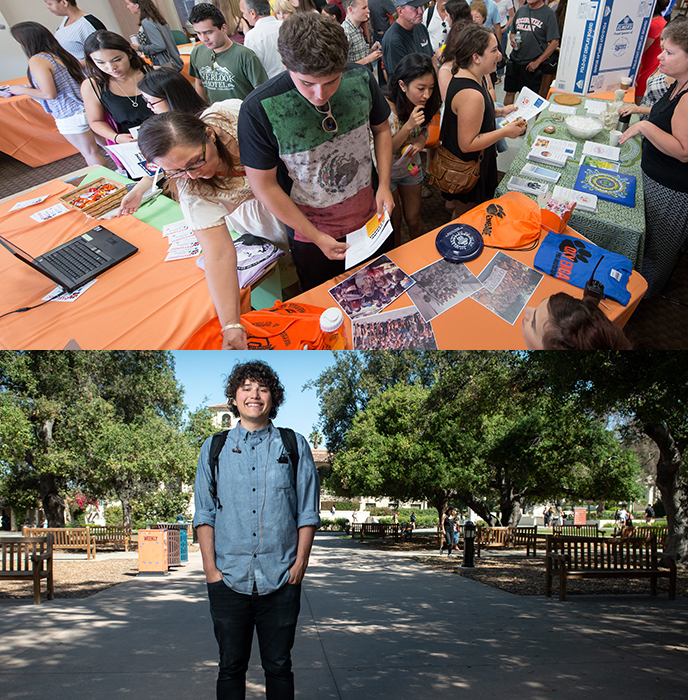 Eli Chavez '18 attends Orientation in 2014. Throughout his time at Oxy, Eli has helped connect the Oxy community through O-Team and TeleFund.
Eli Chavez, Los Angeles, Calif.
English major
I'd been wanting to go to Oxy since forever. My drama teacher in middle school and high school was Mandy Boesche, professor Roger Boesche's wife, so we would put on performances in Thorne Hall. I became obsessed with Oxy and was like, "This is the perfect place for me." When I started and it was Orientation, I thought, "Wow, it's finally happening," I was excited (and terrified) to meet my O-Team, excited to start classes, but I didn't really know what to take, so there were all sorts of things going on in my head. I had heard a lot about Oxy because my sister was here a couple years before me. But even having heard her experiences, it was really cool to have my own and see how our experiences differed in terms of friends, classes and studying abroad.
There were a lot of shenanigans in Newcomb, my first-year residence hall. It was the classic college experience. One day in the first few weeks of school, I was walking down the hall and my neighbors on either side of my room were, in first-year fashion, sitting in the hallway chatting. Some of them had gone to Galco's earlier that day and bought a bunch of sodas of all different varieties and were inviting people to hang out and try them. After bonding over the strange soda names, we all started chatting, and from that moment forward we spent all of our time together.
Everyone tells you before you get to Oxy that college goes by super fast, so be prepared. And then you get here and the four years go by and you learn a lot, meet a lot of people, have great experiences, and then it ends. Everybody grows in maturity from their first year to their senior year. Oxy's really good at teaching you critical thinking skills and how to carry that over into the real world. I feel more informed, I have opinions on things. Also, I'm not a child anymore so people listen to me a little bit more, which is nice.
Josie Pesce '18 sets up her first-year residence hall in 2014. Now a senior, Josie is enjoying time on the Quad while she still can before heading back to New York.
Josie Pesce, Astoria, N.Y,
Media arts and culture major
I'm from New York originally and had only been out to L.A. once before coming to Oxy. It was so different here, just so beautiful. It was awesome and so exciting to be here. I had the only double on my floor in Newcomb, among a bunch of triples. We called our room "The Palace" (it was very spacious). The hall was all first-years, so there was definitely camaraderie, just all the first-years kickin' it in Newcomb.
After four years, I feel very different from when I started. Everyone here is so passionate about different niches, specific things. Being here has taught me that it's really cool to care about things. You take one class and things can just totally shift, not necessarily your path or anything, but just your mindset, and it can just open up a whole world of other interests.
I'm not amped about graduating. I'm definitely going to miss Oxy a lot. If you calculated the number of hours I've spent on the Quad in the last four years, it's more than I've spent sleeping, which is embarrassing. But I definitely think I'm prepared for the world.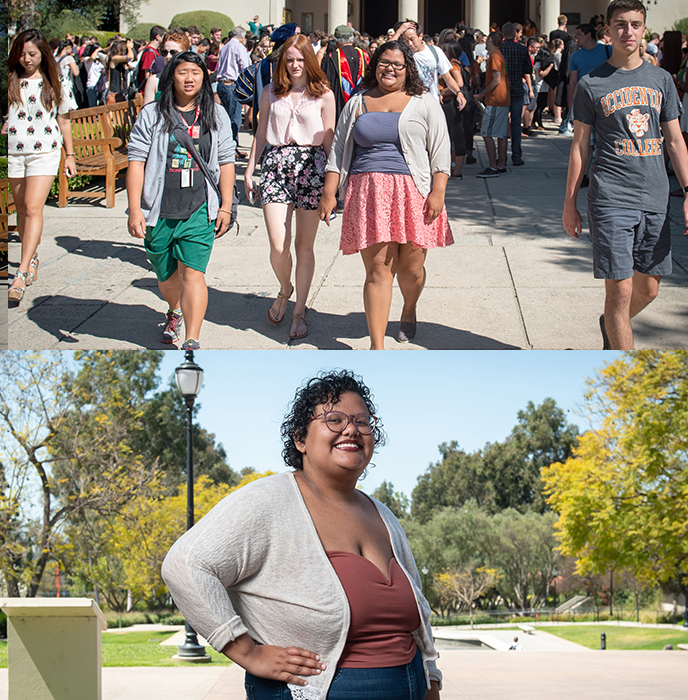 Rosa Pleasant '18 (in pink skirt) attends Convocation in 2014. Rosa has used her time as student to become a voice for underrepresented communities in and around Oxy and will work toward a master's in education following graduation.
Rosa Pleasant, Fresno, Calif.
American studies major
I really believe in trusting your gut, and when I got on campus I said, "This is it." I did MSI (Multicultural Summer Institute) during the summer [before my first year] and met Professor [James] Ford, who has been my mentor all four years. I went to predominantly white schools growing up, and he was the first black teacher I've ever had, and for me, as a black woman, that really mattered.
I was sad because I was leaving my family, but I knew that the memories I'd have on campus would be worth it. I was really excited and so scared, but then we did the matriculation ceremony where we actually signed the book and I realized, "This is real. There's no going back!" The drums [at Convocation] made it very exciting. I was ready for classes to start and I was ready to hop in.
My first two years at Oxy, I struggled wondering how to approach being me in the world. I've struggled with mental health. I had the amazing opportunity to go abroad to South Africa during the Fees Must Fall student movement, where they shut down my university for eight weeks, and I had a lot of time to myself. While that wasn't necessarily the best, it definitely helped me cultivate coping mechanisms and figure out what I need. I feel like I found my voice because of that. I'm never going to stay the same, but as long as I know what I need and what I want, I'll be OK.
I've gotten so comfortable at Oxy, in the routine and the security, that the possibility of going out into the world is terrifying, but I know I have to. I know I'm prepared to do it, too.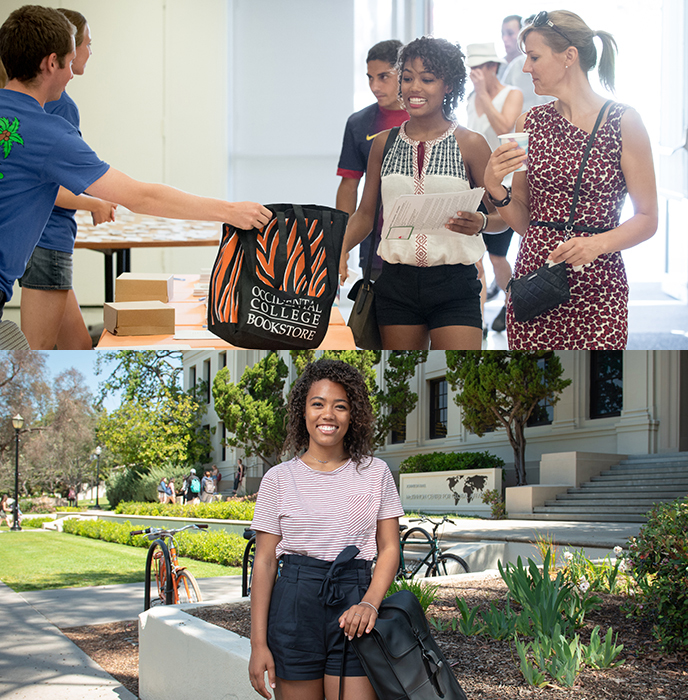 Siyanna Ahmadu '18 is accompanied by her mom as she picks up a welcome bag during orientation in 2014. Her four years at Oxy included a full year away from campus as she enjoyed global experiences with study abroad and the UN Program.
Siyanna Ahmadu, Washington, D.C.
Economics major, media arts and culture minor
I went to the German [high] school of Washington, D.C. Going to a school where everything was taught in German, it was quite a big transition for me coming to Oxy. I first came for Admitted Students Day and I was able to get a feel for the campus and actually meet some students who had just finished their comps in biology, I think. I was ready to be challenged and pushed out of my comfort zone, and was also excited to meet new individuals and learn from my peers.
Stewie [residence hall] was where it all started and from there, I met people that would become my friends (and continued roommates) all four years. Even through Bengal Bus encounters, sororities and classes, the community I had was quite broad and wasn't just one specific group.
I definitely pushed myself and I feel like I did as much as I could during these four years. One of the highlights of my Oxy career was receiving the email that I was accepted to the U.N. program. Out of the four years, I was away for a full year because I also studied abroad in Amsterdam. But even that time away from Oxy really enabled me to grow and become the person I am now. While I was away, I did miss sitting out on the patio with friends and having lunch together, talking about our morning. I think I'm going to miss that after graduation. Those moments will always be in my heart.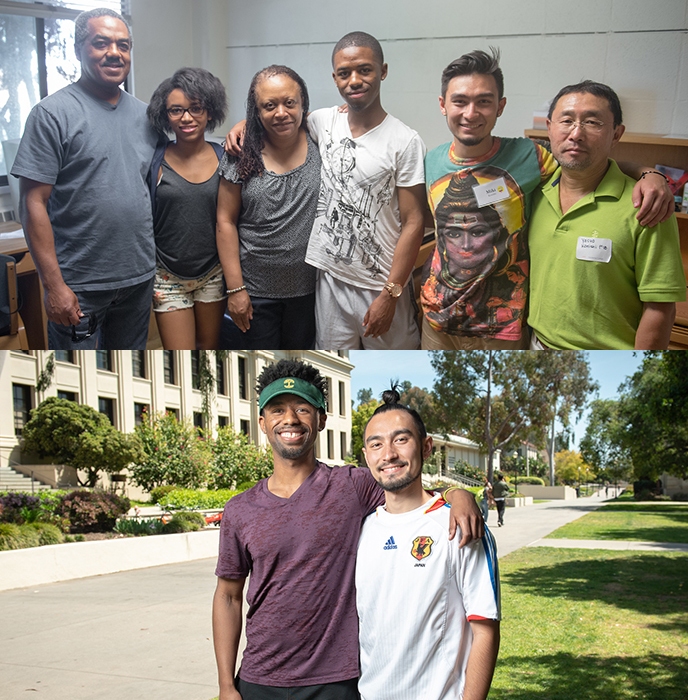 As first-year roommates in 2014, Christopher Thaxton '18 (third from right) and Miki Konishi '18 (second from right) had already formed a bond thanks to the Multicultural Summer Institute. Four years later, the friendship continues.
Miki Konishi, Reston, Va., critical theory and social justice major
Christopher Thaxton, Oakland, Calif., sociology major
Miki and Christopher met as fellow participants in Multicultural Summer Institute (MSI) the summer before their first year at Oxy.
Miki Konishi: MSI is a nice way to start off a friendship. You have that common experience of going to classes, struggling through essays, all those tears… We lived in Pauley together our first year and had a big community of friends there, as well.
 
A lot of the experiences I've had here have allowed me to see beyond Oxy and see beyond myself in ways that I didn't necessarily expect to. I feel like I have a much broader perspective on college and life. I've learned that there is life beyond school, that what I have to say is of value and that I can make significant contributions. Oxy's prepared me for the next step to enter the real world.
 
Christopher Thaxton: I think my first year was probably my favorite year. I had plenty of things to worry about, I just didn't know I had to worry about them—I felt so free! When I came here originally, I was like, "I've reached the finish line." I've been in this net of knowing what to do come August, and now I don't know what I'm doing to do in August this year. Knowing that I need to focus on things that aren't just about school has been a huge thing for me to come to grips with.
 
Over four years, I've become a lot more independent and reliant on myself. That first year, probably all the way to junior year, I really was dependent on people. Like Miki said, I've been broadening my perspective on things and looking past Oxy. I'm still definitely a work in progress.