From Summer 2003: Designer, professor, and Medal of Arts recipient Ming Cho Lee '53 reflects on half a century's work in American theater
(Editor's note: Ming Cho Lee '53 died Oct. 23, 2020, at his home in Manhattan. An obituary will appear in the Winter/Spring 2021 edition. The following profile was originally published in the Summer 2003 edition of Occidental magazine.)
When Ming Cho Lee '53 accepted the National Medal of Arts at a White House ceremony and reception on March 6, 2003, it was as if he had walked onto the set of an elaborately staged production. When the recipients and their families were driven onto the grounds, security stopped each bus and searched it with bomb-sniffing dogs while a Secret Service agent wearing a long black raincoat horsed around with Lee's 7-year-old granddaughter. "The area surrounding the White House is like a no-man's land. It reminded me of going from West Berlin to East Berlin," he says, "except that the Secret Service agents had a great sense of humor."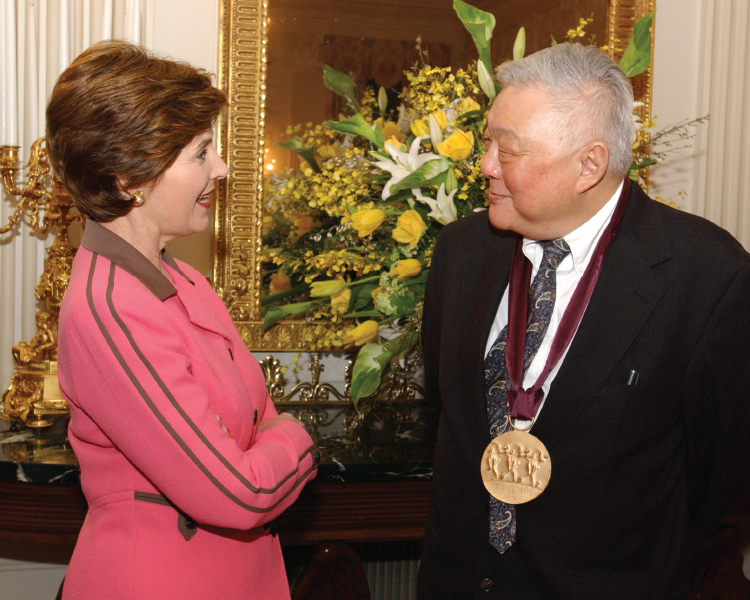 While the Red, White, and Blue rooms were open for the reception, Lee likens the White House to "a fortress," with Marine escorts to the food table and the restroom. (His granddaughter left suitably impressed, saying, "Let's come back to Washington again.") First Lady Laura Bush mingled with the honored guests (including actor-educator Uta Hagen and singer-songwriters George Jones and Smokey Robinson), a string quartet accompanied the proceedings, and the view outside showed the Washington Monument and Jefferson Memorial in all their glory.
When Lee's photo opportunity came around, President George W. Bush "was very smooth, very casual, very jovial," Lee says. "He came up to me and said, 'How is Yale doing?' And I said, 'That's your alma mater.' And he said, 'Yes indeed.'"
Bush took a good look at Lee. "Your tie is askew," the president said.
"That's my artist's look," Lee replied.
"Trust me," Bush counseled Lee, "you have to look your best." But even after the president personally adjusted Lee's neckwear, "My tie was still askew," he recalls.
Lee would see the president again later that night, in a televised address to the nation. Bush called Saddam Hussein and his weapons "a direct threat to this country, to our people, and to all free people.… We will not wait to see what terrorists or terrorist states could do with weapons of mass destruction."
Bush's tie looked its absolute best.
Political differences notwithstanding, Lee proudly accepted the Medal of Arts—the nation's highest honor in the arts. Lee is the first theater designer to receive the honor, and only the fourth Asian American since the award's creation in 1984, following sculptor Isamu Noguchi, architect I.M. Pei, and cellist Yo-Yo Ma.
"This extraordinary honor reflects Ming's many profound contributions to our society as an artist," says James Bundy, dean of the Yale School of Drama, where Lee is the Donald M. Oenslager Professor (Adjunct) of Design and co-chair of the design department. "It is only one measure of how fortunate we are to have Ming Cho Lee among us, where his intellect, imagination, passion, and integrity improve all of our lives every day."
Born in Shanghai in 1930, Lee grew up in "a very westernized family." His father, a Yale graduate, "went so far as to eat Western food at home rather than Chinese food, which caused a huge problem with my relatives." It was understood that at some point he would come to the United States for a college education.
Lee left Shanghai in 1948 to join his father, who had settled in Hong Kong after divorcing his wife when Ming was 6. Tsu Fa Lee, a general agent with Occidental Life Insurance, happened to meet Arthur G. Coons (Class of 1920) while the Occidental College president was on a trip as an American delegate to China. When college came up, Tsu Fa mentioned that Ming was coming to the United States and that his preference was that his son study on the West Coast—all the better to become assimilated into American society. Coons, naturally, suggested Ming apply to Oxy.
When Lee arrived at the College, he was one of three Asian students out of an enrollment of 1,466—the others were Doris Chien '53 and her brother Eric '53—and the only African American at Occidental, George Ellison '52, was Lee's roommate. His first class was a History of Civilization lecture. "For 50 minutes, I did not understand a word," he recalls.
But he soon concluded that "Occidental was really the icon of a liberal arts education." Lee remembers History of Civilization as "a great-books course that put everything in context. To be able to make choices, a citizen has to be reasonably well-educated and know his or her own heritage. That idea of education was invaluable. I think I grew up from an adolescent to a person who understood the importance of making choices at Oxy."
One of the first choices he made was to spurn accounting as a profession, in favor of the theater. Ming's father blamed it on his mother, who dabbled in acting and shared her love of the arts with her son. "She would take me to a theater or sometimes to a dog race—anything that was shocking to my father," Lee recalls. "Those weekends were the high point of my life."
As a teenager, Lee also became a disciple of a well-known Chinese landscape artist, studying with him for two years. When his mother left for the United States, the lessons stopped. "Doing Chinese landscape painting was totally out of whack with high school life," Lee says, but it left him with a command of the technique that few art schools could match. "I had a natural way of handling watercolor and an understanding of the medium that was a real help to me," Lee says. "I used that to balance all my grades that I got in freshman English."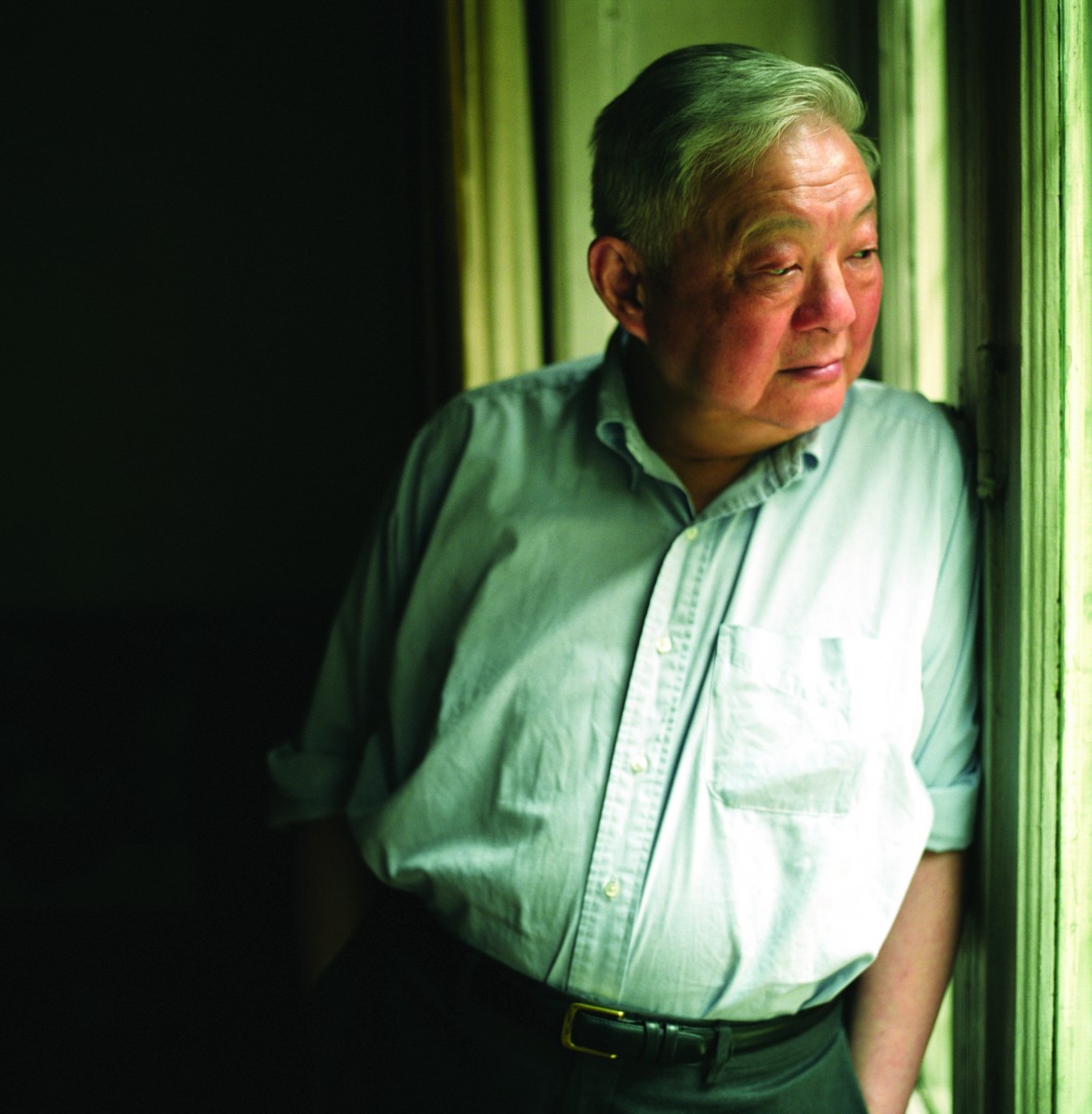 Under the tutelage of assistant art professor Richard Swift, Lee learned plenty about figure drawing, but in the spring of 1951, he decided against majoring in art. "At that time—the late 1940s and early 1950s—the prevailing art scene was abstract expressionism," he says, "but I was not comfortable with it. I needed some kind of structure, because I came from a culture that was very, very structured. I found that just to have a white canvas and buckets of paint to throw at it while listening to 'Bolero' was both intimidating and somewhat meaningless. The complete separation between the visuals and the subject matter was alien to me." Coupled with an allergy to oil and turpentine, he says, "I felt itchy all the time doing oil."
After a brief flirtation with a career in film—he washed windows and handled hot plates at the USC cafeteria while taking classes in the film department one summer—he decided the industry was too specialized and returned to Oxy as a speech major. "That was a frightening prospect," Lee says, "because I had trouble enough carrying on a conversation in English, let alone making public speeches." He unearthed a "mensch"—and a mentor—in speech and drama instructor Omar Paxson '48. "Omar welcomed me with open arms and immediately put me in a show," he recalls. Then Paxson asked Lee to do the decor for The Silver Whistle, a play about a group of elderly people in a nursing home. (Lee even had a small part in the production, as Mr. Reddy, the undertaker.) A class taught by Norman Freestone, Speech as Therapy, gave him the confidence to do public speaking, "and I've never stopped talking since," Lee says.
Again Lee's father, a deeply conservative businessman "who believed in free trade and a total laissez-faire marketplace," was very upset. "He felt I had chosen a major that was more about 'how-to' than substance. But if you have to make a speech, you have to organize your thoughts and how you go about saying them. Without a speech degree, I would not be teaching now. Oxy changed my life."
After a disappointing year of graduate study in design at UCLA (one bright spot, Lee recalls, was "getting beyond the prevailing American theater of Arthur Miller and Tennessee Williams and into the writings of Bertolt Brecht and Eric Bentley"), Lee was preparing to move to New York to live in Greenwich Village with a number of Oxy friends, including Ruth Jordan '51, Marilyn Burn '53, and Dee Sharpe '54. Along the way, UCLA professor Eddie Hearn introduced him to Eddie Kook, owner of Century Lighting. Kook invited Lee to come by with his portfolio when he made it to New York, which he did in August 1954. Impressed with Lee's watercolor work, Kook got in touch with Jo Mielziner, the leading American theater designer of his generation with a string of production credits that included The Glass Menagerie, A Streetcar Named Desire, Death of a Salesman, Carousel, South Pacific, and Guys and Dolls—"You name it, Jo did it," Lee says.
When the two met in November, Mielziner, a master watercolorist, found a kindred spirit in Lee, and offered him a job as a studio apprentice, and then as an assistant, at $75 a week. "I was in the business," Lee says, even if it meant filing drawings and doing ground plans for shows such as Silk Stockings and Cat on a Hot Tin Roof. He later found additional assistant work with Boris Aronson, a Russian-Jewish artist-philosopher whose design style was in many ways the opposite of Mielziner's. "Jo was very good with watercolor. Boris relied more on models than sketching," Lee says. "Boris tended to be more Brechtian in his design and Jo was not. Boris's designs were more political in nature, and Jo tended to be very theatrical. Probably the best thing I ever did was working for Jo and for Boris on and off for three years—both sides of American design at the time."
When Lee finally struck out on his own, "I was very serious about the fact that theater should be political and designs should not be decorative," he says, but a major obstacle still remained: "I was having trouble getting design jobs because I didn't know anyone. I had no peers—I didn't go to graduate school on the East Coast—so I was kind of by myself with a few friends from UCLA, and they were struggling." He finally found work at the Peabody Institute of Music in Baltimore, which paid a scant $250 per show ("which you could survive on"), but gave him the opportunity to design sets and lighting for nine productions from 1959-63.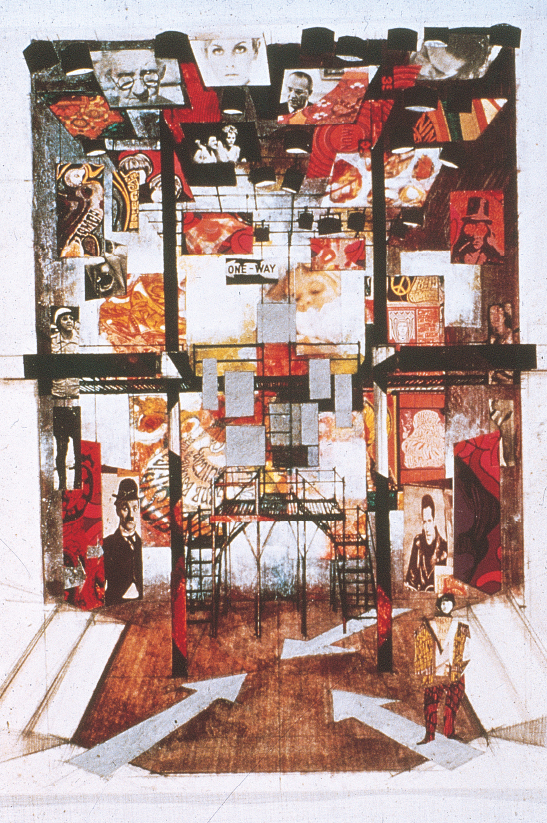 One March, Lee was in the middle of a production for the Peabody Institute when the show was canceled. "I was desperately looking for a job," he says, "and Jo Mielziner came to the rescue." Mielziner has been asked to do a job for the San Francisco Opera when he suggested to general man­ager Kirk Herbert Adler that Lee might be interested in moving cross-country to become the opera company's in-house designer. He moved his wife, Betsy, and two kids to the Bay Area for the season and quickly went to work at the opera, putting designs together from old productions—a thankless job that paid the then-princely salary of $250 a week.
Lee was still in San Francisco when he got his first Broadway job, for director Lloyd Richards. A Civil War drama about abolitionist John Brown, The Moon Besieged was itself besieged by a last-minute delay, "and I was a little crestfallen. Then Martha Graham called me to design a dance for her," Lee recalls. "I said, 'Absolutely.'" Subsequently, Graham's A Look at Lightning opened on Broadway first. Soon after that, producer Joe Papp asked Lee to design for Shakespeare in the Park and then the Opera Society of Boston called with an offer to do Madamma Butterfly. "Suddenly I had four or five jobs at once," Lee says, "and I have been busy ever since."
Lee and Papp turned out to be a perfect match. "For some reason I had a real understanding of how to do Shakespeare," says Lee. "With Shakespeare, you have to design for the overall world of the play, and allow the actors, costumes, and props to provide the specifics." Moving away from the prevailing poetic realism, Lee focused on real rather than illustrative space, and became one of the first designers to work from models.
His 1964 New York Shakespeare Festival production of Sophocles' Electra, with its three-panel stone design and pipe scaffolding, changed the face of American theater. Lee received his first Tony nomination for set design in 1970 for Billy, only to lose to his former mentor, Mielziner, for Child's Play. (Lee stepped in to finish Mielziner's final project, The Baker's Wife, after Mielziner died in 1976.)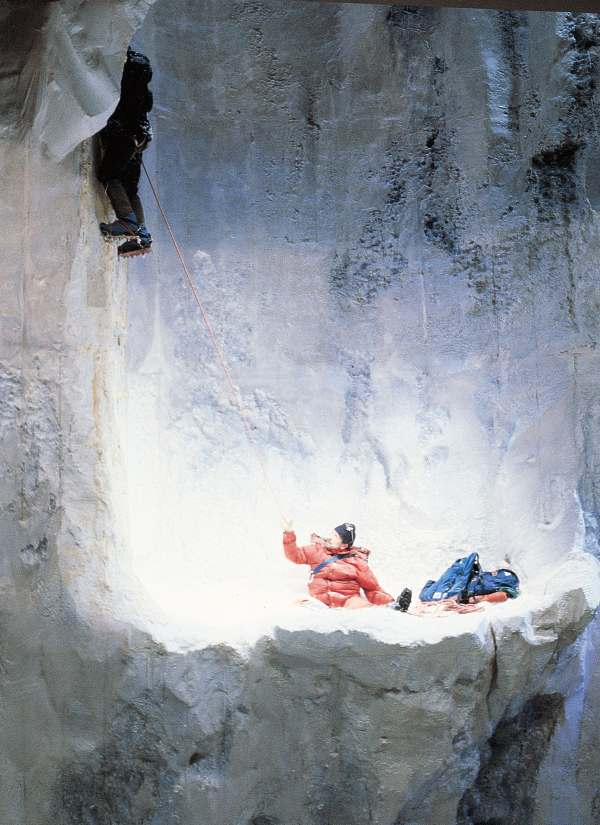 After leaving the festival in 1973, Lee began to design for the Metropolitan Opera and trained his sights on the burgeoning U.S. regional theater scene. He has done some of his finest work for the Mark Taper Forum in Los Angeles, and his only Tony Award originated as a production for Wash­ington, D.C.'s Arena Stage in 1982. For K2—in which two friends and climbing partners are stranded on the second-highest mountain in the world—Lee created a five-story wall of artificial ice. The play moved to Broadway in 1983 and swept the critics' awards, including the Tony for set design. (Two years later, a former student of Lee's, Heidi Ettinger '73, won a Tony for her set design for Big River.)
For much of the time around K2, Lee went through a period marked by "fairly realistic sets, which I was not very good at. Then in the late 1980s, I discovered postmodernism and the theater of imagery and hit my stride, doing design very different from what I did before."
Back in the 1960s, in addition to doing three shows each summer for Shakespeare in the Park, Lee picked up design work for the Juilliard Opera Theater, New York City Opera, regional theater, Martha Graham, the Joffrey Ballet, and an occasional Broadway show. "The Shakespeare Festival provided the resources for me to have two or three assistants each summer," he says, "so I kind of repaid Jo's practice of taking on people who are new to the field."
Lighting designer Jules Fisher introduced Lee to administrators at New York University, where he started teaching in 1967. Two years later, Lee accepted an invitation to talk to a design class at Yale, and soon after he was asked to teach there. "A friend said, 'Yale is important—you'd be an idiot not to accept,'" he recalls.
Lee joined the Yale School of Drama faculty in 1969 and became co-chair of the design department following Donald Oenslager's retirement in 1970. "Donald, obviously, was a great teacher," says Lee. "He trained almost all of the American designers, and a great many European and English designers came to Yale to study with him. He had his students read a play every week and try to transform words into visual imagery." Lee revised the curriculum slightly, having students design a play every two weeks while broadening the repertoire. "Donald was strictly about sketching, but now it's mostly about models."
The design department at Yale enjoys a strong sense of continuity. Oenslager was a founding member of the Drama School in 1925, started the design department the following year, and retired in 1970. "This is my 34th one-year contract," Lee says—the Yale School of Drama offers no tenure—"and I may go as long as 40 years." And while Lee drops hints about retiring from design work, he shows no signs of giving up the classroom just yet. "I discovered that I get as much from teaching as my students do. I find teaching as invigorating as doing Shake­speare. I would not want to live without Shakespeare."
In the spirit of Mielziner, who made time for him when he was new to the profession, Lee and his wife, Betsy, sponsor an invitation-only design portfolio review weekend each spring in New York, affectionately known as "Ming's Clambake." The event, held in cooperation with the Alliance for the Development of Theatre Artists and the New York Public Library for the Performing Arts, brings up to 72 graduating students from major theater design programs together with professional designers and directors for a two-day review of their work and an introduction to the professional community. "The design community is unique," Lee says, "in that the designers are very responsive to people who are entering the field. They feel that they are obligated to see the work and give advice."
One of the first pieces of advice he would give any young designer: Don't be choosy. "We are not in the position to choose," Lee says. "If people call, you do the project. Boris Aronson had a saying: 'When you are busy, everyone calls wanting you. When you're not busy, not even the wrong number calls.'" Robert Anderson, the author of Tea and Sympathy, put it another way: "You can make a killing in the theater, but not a living."
"And this is why I have never been well off," Lee explains. "Given my questionable Broadway career, Yale is my rent, my healthcare, and a semblance of financial security, and is subsidizing my design activities. At my age, I feel very lucky to be teaching." During the school year, he commutes to New Haven, Conn., to teach every Monday, Wednesday, and Saturday. With that schedule, Lee says, "I don't see that many shows now. I get up very early those days in order to go up there. That leaves only Thursday that I can see a show without killing myself." That noted, he doesn't think he's missing much.
In spite of recent world events, "The artists aren't making a big noise," he says. "I don't think Broadway is doing its bit. And I don't think the regional theater is doing its bit because they are forever tin cup in hand, begging for money in order to survive. I think the only kind of theater that is worth doing is theater that has a danger in it. Theater should not be about success.
"I sometimes find that seeing a student production of As You Like It is much more important than seeing The Producers," Lee adds. "In As You Like It, Shakespeare is exploring different facets of life, of falling in love, and that is fantastic and funny and you come away and your perception of life has changed a little bit. And that is what theater should be."
(Editor's note: Ming Cho Lee died Oct. 23, 2020, at his home in Manhattan. An obituary will appear in the Winter/Spring 2021 edition.)