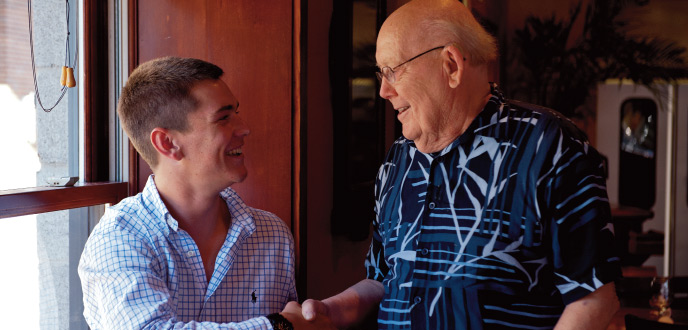 David Wigglesworth '50 M'53 and Keegan McChesney '16 forge an unlikely friendship in Seattle—thanks to a decal
One day in July, I was driving out of the Kirkland (Wash.) Library parking lot when I saw a car with an OXY decal on its rear window. I stopped, took out a piece of paper, and wrote "Hi Oxyite!" with my name and graduating class as well as my email address. I placed the note on the car and wondered if anything would happen. A couple of days later, I received the following email:
"Hello Mr. Wigglesworth, My name is Keegan McChesney, and you recently left a note on my mom's car at the Kirkland Library. As for me, I am a rising sophomore and pursuing an urban and environmental policy major with minors in biology and politics. I also play on the Oxy soccer team, am a chairman on the Sustainability Fund board, work for the Neighborhood Partnership Program, and will be writing for the Weekly next year. This summer I am in Seattle, where I was born and raised, working as a yacht maintenance laborer, a soccer coach, and a tutor, while I save up for South American travels next summer.
"I would love to hear more about you, as I commonly find that all associates of the Occidental community are of like fascination and friendliness. I hope to hear from you soon and possibly arrange a meeting of sorts. Thanks for the inquiry."
I immediately responded: "Hi Keegan: I wondered if I would get a response and hoped that I would. Thank you for writing. As you could assume from my note, I am somewhat ancient. I earned my B.A. (1950) in political science and my M.A. (1953) in history from Oxy. My Ph.D. in cultural anthropology was from Florida and not as prestigious as the Oxy degrees. In my early career, I taught at colleges and universities in Latin America, Southeast Asia, sub-
Saharan Africa, and North Africa. In my later years as an international management consultant, my work took me to some 15 countries. I would enjoy getting together with you sometime at your convenience. We could meet for lunch in Kirkland or anywhere you suggest."
Keegan replied soon after, and we agreed to meet at an outdoor restaurant in Kirkland that Saturday afternoon. It was instant harmony. Without consulting the other we both ordered eggs Benedict, his with smoked salmon and mine with crab cakes. We talked for about two hours. Along the way, I realized that I must have been doing most of the talking, as he had finished his lunch and I was only halfway through mine. We discussed our career paths, books we liked, our mutual interest in soccer (my oldest son is a professional soccer coach), and his work as a volunteer tutor. I also mentioned that, being new to the area, I was still unfamiliar with Seattle and its environs, and he said he would show me around one day. We left promising to meet again. I sent Keegan a list of the books that we discussed along with a bibliography of my writings.
Later that day, Keegan wrote back: "David, I thoroughly enjoyed our lunch today, and I look forward to meeting with you again. My friend is an intern at a hotel, and he offered to drive us around downtown for the day in his company car. I'll keep you updated with which Saturday works best.
"Thank you for your book references and recommendations; I'll be sure to let you know what I think of them! Additionally, if I could suggest one myself, I think you would rather enjoy The Autobiography of Benjamin Franklin. I look forward to speaking with you soon. Also my mother sends her regards and thanks you for meeting with me!"
A day or two later, Keegan invited me to go to the Sounders soccer game against the Colorado Rapids on the following Saturday. The game ended in a tie, and we had a great time together. "I really enjoyed the game," I wrote him afterward, "but more importantly, I enjoyed being with you and your refreshing spirit. Thanks for taking me to the game and spending time with an old alum."
Keegan replied: "You are quite welcome, I wouldn't have had it any other way. Thanks for accompanying me; I had a blast as well! 'Twas a lovely day, a lovely game, and the continuation of a lovely friendship." Next thing I knew, Keegan had posted a picture on his Facebook page of the two of us at the game. The caption read: "Friendship has no age limit! My new pal David C. Wiggles­worth. Occidental Class of 1950."
True to his word, on his last week home, Keegan gave me a tour of Seattle, showing me the key areas that might interest me, his favorite spots, and ending with a tour of downtown by his friend who works as an intern in a major hotel. We plan to keep in touch and get together again on his next break. All I can say is "Wow!"
David Wigglesworth '50 M'53 is a retired international management consultant living in Kirkland, Wash. Click here for Keegan's side of the story.