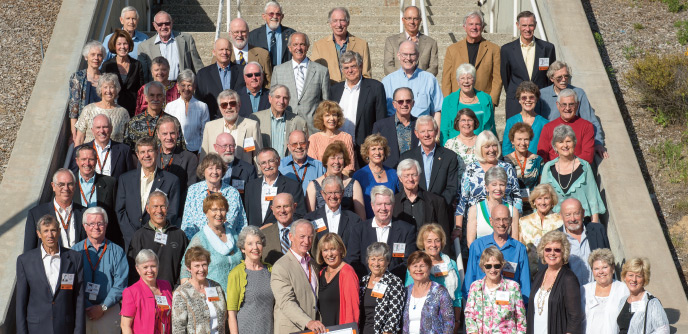 A 1963 grad reflects on a reluctant 50th reunion
Fifty years. Really? I have been dreading this event since it appeared on my horizon—alerted by my college roommate, Gordon, months ago. I had not been back to Occidental these many years, ignoring the 10th, 20th, 30th, almost making the 40th … and now suddenly this seemed to be the last chance. If you don't go to this one, you never will. But does it really matter after 50 years, and would anyone really care if I just wasn't there? I will probably never see these people again anyway, and I know it will be boring or worse. Haven't I moved on from this college experience so long ago, to medical school and a professional career foreign to college classes? But, ultimately I needed to understand this anxiety and reluctance and to confront who I was then, compared to the 71-year-old physician/husband/father/grandfather that I have become. 
So, what happened? The reunion was great—memorable, really. I had forgotten how beautiful the Oxy campus was. And in a peculiar paradox of emotion and insight, I found myself infused by renewed energy. A future seemed to emerge by talking about the past. Everyone was exceedingly nice, accepting, and positive. Whatever slights, disputes, antagonisms, competitions, or failures that may have occurred half a century ago seemed irrelevant or forgotten in the context of meeting vaguely familiar people who were reasonably healthy and happy. 
Something else happened that I didn't expect. I remembered almost nothing about what others remembered about me, and thankfully these recollections seemed more positive than I would have hoped or expected. I had forgotten cross-country trips, a multitude of activities and events, words and phrases uttered and somehow recollected only by others, and even women I'd dated (and if I did anything stupid, they didn't say). Of course, there's always the possibility that it is the others whose memories have been altered by time, and recalled events as they thought they were, or wanted them to be. But, everyone seemed so sure, and I could only nod and smile. After all this time, absolute accuracy doesn't really matter that much. After 50 years, college has largely become an oral history for which a complete or true accounting resides nowhere.
Not unexpectedly, many classmates had changed. The minister turned atheist, the world class shot-putter unrecognizable physically, the coach well into his 80s who couldn't remember the big game at all. Some of the best, brightest, and most attractive had become the most troubled, while others with fewer expectations for life in college appeared among the most successful and motivated.
Perhaps nothing puts you in touch with your mortality more than the 50th (unless it's the 60th). We have lost 15 percent of the class, and those among the living shared many stories of medical hardship and illness, from joints to stents to incomprehensible family tragedy. With this recognition comes an odd feeling of superiority that makes one exceedingly uncomfortable, as if we are survivors in an actuarial competition. 
In just a few short hours, someone who felt himself to be a cultural and intellectual misfit 50 years ago has been restored by the reunion—and that is good, very good. If Gordon calls again (and I hope he does) and says we need to go to the 51st, 52nd, or dare I say the 55th, this time I won't hesitate. I was wrong to be reluctant, and I feel better now. I might even be able to get past losing my starting point guard position those five decades ago. There is hope, and maybe even a future, after the 50th.