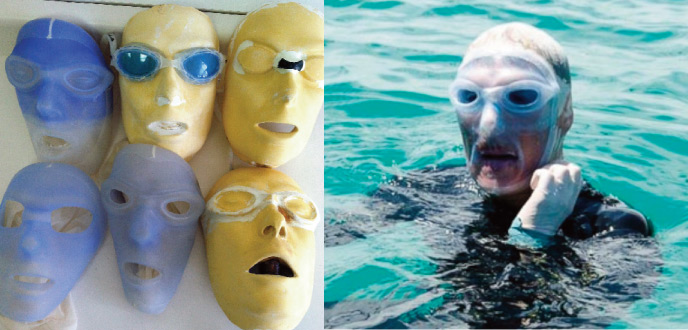 Prosthetics specialist Stefan Knauss '88 aids Diana Nyad's epic swim; documentary filmmaker Marcel Ophuls comes in under two hours; and more
Behind the Mask: Knauss Takes the Sting Out of Nyad's Epic Swim
The secret to Diana Nyad's historic Cuba-to-Florida swim may have been the custom silicone mask to protect her face from jelly­fish stings created just for her by Stefan Knauss '88 of Pasadena's Aesthetic Prosthetics. After toxic jellyfish stings to her mouth thwarted Nyad's 2011 attempt at the 110-mile swim across the Florida Strait, Knauss—who specializes in making realistic limbs and facial features for combat veterans, cancer survivors, burn victims, and others—stepped in to help.
Looking for a custom-built mouth guard, Nyad had first turned to Orange County dentist Chris Nagel. When he felt his capabilities had reached their limit, he contacted Knauss, and together the three met and discussed Nyad's needs. "She shared everything she knew about box jellyfish, and we began designing a prototype," says Knauss, a religious studies major who also studied physics and studio art. (He went on to get a master's from the University of Chicago's Craniofacial Center in the Department of Maxillofacial Prosthetics.)
Nyad's mouth guard "went through many iterations," says Knauss (the subject of an Occidental profile in Fall 2009), starting with just a lip covering and developing into a silicone face mask held on with a Spandex hood. Nagel crafted acrylic retainers that seamlessly fit into the mask and over her teeth. The mask snaked its way inside Nyad's mouth and along the inside of her cheeks.
"We made a lot of adjustments in the course of working with her," Knauss says, using his parents' pool as a testing ground. "A big issue was making sure she had plenty of airway room. We kept making that bigger and bigger until she felt comfortable with it. Honestly, I don't know if I can say she ever felt comfortable with it. But it was enough to get her where she needed to be to take on the challenge again."
Nyad only wore the mask at night on her historic swim—sunlight keeps box jellyfish at bay. She had some problems with bruising on the inside of her mouth, according to news reports. "The inside of the mouth is so delicate," Krauss says. "We tried to make the silicone as smooth as glass. But any friction will irritate the mucosal membranes, especially when you add saltwater."
Knauss, who absorbed much of the cost of producing two face masks, reconnected with the swimmer at a celebration party at the Rose Bowl Aquatics Center on October 19. Nyad gamely tried on the mask for mojito-sipping partygoers, saying. "I could not have done this swim without Stefan."—SAMANTHA B. BONAR '90
A Memoir on Film: Marcel Ophuls '50 (in less than two hours!)
Oscar-winning documentarian Marcel Ophuls '50 (1988's Hotel Terminus) made a welcome return to the big screen in 2013 with Ain't Misbehavin' (Un Voyageur), which premiered at Cannes in May and made its North American debut at the Toronto International Film Festival in September. The biggest surprise about his engaging film memoir? Its 106-minute running time. "It was made for f***ing French TV," Ophuls explained to the TIFF audience. "And length was imposed on me, which never anybody does to Frederick Wiseman [whose new film, At Berkeley, clocks in at 244 minutes], my best friend and colleague for the last 40 years. But … he's his own producer, so that makes a difference."  Two hours, he added, should be sustainable for an audience "if they don't get bored. They can hold their bladder that long."
Newsmakers in Brief
Thanks to the efforts of Oxypreneurship students led by Shilpa Bhongir '16, Oxy will host its first TEDx conference on March 29, 2014, built around Reinventing the American Dream. "We want to address what it means to live a successful and fulfilling life and contribute to healthy societies in a complex and interconnected world," says Sanjeev Khagram, John Parke Young Professor of Global Political Economy and adviser to the Oxypreneurship student club. "It will be a wonderful opportunity to connect with speakers, leaders, and visionaries from our local community, across the United States, and around the world."
Professors Lisa Wade, Gregory Tollisen, and Daniel Snowden-Ifft were honored with the College's top teaching awards at Convocation on August 28. Wade, associate professor of sociology and a member of the faculty since 2006, and Tollisen, adjunct assistant professor of mathematics since 1996, were recipients of the Linda and Tod White Teaching Prize. Snowden-Ifft, professor of physics and a faculty member since 1997, received the Graham L. Sterling Memorial Award.
The Senate confirmed Denise Campbell Bauer '86 as ambassador to Belgium on August 1. A resident of San Francisco, ­former TV producer, and lifelong Democrat, she was appointed to the role in June by President Barack Obama '83. Bauer raised a total of $4.3 million for his 2008 and 2012 campaigns. Her full title: "Ambassador Extraordinary and Plenipotentiary of the United States of America to Belgium." 
Ted Mitchell, Occidental's 12th president, has been nominated as under secretary of Education by President Barack Obama '83. The nomination will require Senate confirmation. Mitchell, who relocated to the Washington, D.C., office of NewSchools Venture Fund this summer, has headed the San Francisco-based nonprofit since leaving Oxy in 2005. While at the College, he played an active role in local, statewide, and national debates about K-12 school reform.