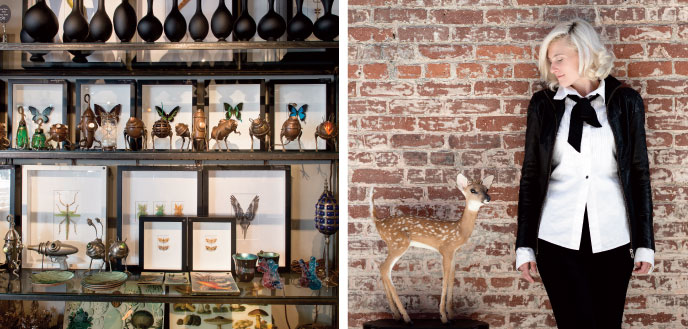 Pasadena's Gold Bug gallery is crawling with curiosities—from jewel-encrusted insects to stuffed critters who died naturally. After seven strange, successful years, Theodora Coleman '08 prepares to take the reins of the family business
By Samantha B. Bonar '90 | Photos by Marc Campos
With the holiday season fast approaching, what do you give the person who has everything? How about a fossilized emu egg chandelier, or a swan delicately carved from moose horn? What about a beetle-shaped ring set with vintage crystals? Maybe a stuffed beaver wearing a crown?
If you answered "Yes, please" to any of the above, then Gold Bug—a modern-day Old Curiosity Shop in Pasadena run by Theodora Coleman '08 and her parents, Stacey and Shelley—might be just the spot for you.
Named after the 1843 Edgar Allan Poe tale about buried treasure, the upscale retailer is packed with home-decorating items, jewelry, and objets d'art, all magically displayed and seasoned with a dash of Victoriana. The selection is quirky, artsy, and a little macabre, with an emphasis on natural, organic materials. "I feel like they collected items from both Lewis Carroll and a wolverine's lair," said one customer on Yelp.
Every item in Gold Bug bears the fingerprints of the Colemans, a close-knit clan who are slightly more Royal Tenenbaums than Addams Family. "We raised Teddy as a pirate," explains dad Stacey. "Her Christmas stocking every year was full of rusted locks and treasure maps. She'd get designer eye patches. We'd send her on scavenger hunts. Teddy was a little surprised when she found out that other kids got different things in their stockings."
Growing up on a farm on Orcas Island in Washington state, "I took care of the orphaned baby lambs," Coleman recalls. By the age of 4, she was peeling pomegranates for her parents' restaurant in Seattle. "I've been working with my folks since as long as I can remember," Coleman says. "It's always felt like we're creating something together."
A lifelong fascination with people—and the desire to expand her horizons beyond the homogeneity of island life—prompted Coleman to choose "a school in a big city with a diverse population." It also drew her to an anthropology major. "I've always been really interested in people and other cultures," she says, noting that if she wasn't working with her parents, she'd possibly be a marine archeologist.
Meanwhile, Stacey and Shelley made increasingly frequent trips to visit their daughter in Southern California. "A couple years into college, they were like, 'Oh, we really like Pasadena.' It got to the point where they'd say, 'Oh, there's a snowstorm; we're gonna come down.' "
Her parents eventually sold their latest business—a cut-flower and aquatic plant nursery—and relocated to Los Angeles for their next venture. "They moved in with me the summer before my senior year," says Coleman, who was living in a house off campus. "I always teased them: 'Oh, you're following me!' But I think it was just timing. They weren't ready to retire on the island."
The family opened Gold Bug in October 2007, and Coleman worked there as a senior at Oxy. "We opened it to support young, emerging artists who were making objects by hand out of a natural resource," she says. "We represent artists from all over the world, but our main goal is to support local. We believe in the importance of community and try our best to support ours."
While some of the store's offerings may raise a few eyebrows, Coleman insists that every creature sold in the shop died naturally and was sourced from a network of museums, breeders, and zoos. "People are weirded out by the dead birds and stuff," she says. "For us, a lot of it is not wanting stuff to go to waste. It's more of a veneration, an appreciation of the beauty of nature. A scarlet macaw lives 100 years and dies naturally. We think that's beautiful. We want to preserve it."
The shop has built up a loyal clientele largely by word of mouth. "When we first started the gallery, not many people knew we were here," Coleman says. "As the word has spread, though, there are people who come from not only all over L.A. to visit us but all over the world." Indeed, the shop has been featured in Japanese guidebooks and Italian magazines, works with costume and set designers, and has a celebrity clientele about whom the Colemans are discreet.
"We are a destination for people and have a loyal following that grows every day," Coleman says. "We typically have something in common: a love of natural history and science as well as one-of-a-kind designer artwork or something unique that you can't find anywhere else."
Now, Coleman's parents are finally ready to return to their roots. They are building a home on Orcas Island and are leaving Gold Bug in Coleman's hands.
"I'm trying to retire my parents," she says. "I want them to go and relax and I'll just send them money. I'd love to be able to take care of them, because they took care of me for so many years. They were both excited to check out what was going on in the world. And now they're ready to go back to the forest."
"It's her business now," says Shelley, who hopes to move sometime in 2015. "We keep piling more work on her. I'm looking forward to going back to the island. We are gonna go hug trees."
Of course, their new place wouldn't be complete without a housewarming gift or two. Maybe a narwhal Christmas tree ornament, or a spider web preserved under glass? A pewter jackalope? As another Yelp user remarked, "Gold Bug is like stepping into someone's imagination and being able to take a little piece home with you."