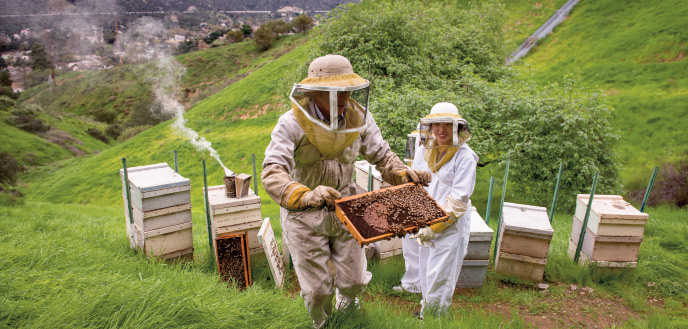 From beehives and hybrids to shower heads and deep-fryers, sustainability is a buzzword on campus
1. In its first 30 months of operation, Occidental's 1-megawatt solar array has produced 4.69 gigawatt hours of clean, renewable energy—or 12.6 percent of all of the energy the College used over the same time period. "Because of the array, 5,565 tons of CO2 did not enter our atmosphere, the equivalent of not driving an average passenger vehicle 7.7 million miles or 310 times around the Earth," writes Daniel Snowden-Ifft, the Oxy professor of physics who spearheaded the project.
2. Between May 2013 and March 2015, Oxy's two Zipcars averaged 2,964 miles per month in use. By the company's estimates, every Zipcar in use takes 15 personally owned vehicles off the road.
3. Through such measures as low-flow restrooms, high-efficiency shower heads in residence halls and locker rooms, and reducing watering on campus, the College has cut annual water use on campus over the last five years by 19 percent since 2009, to 78.4 million gallons last year.
4. Many bathrooms on campus have highly efficient hand dryers, saving nearly 5.3 million paper towels per year and reducing Oxy's contribution to the landfill by almost 4 percent.
5. All printers in the Academic Commons are equipped with a release-to-print feature, which requires users to actively log onto a printer to release the material that they need. This process eliminates the waste created by items that are printed and never picked up.
6. Forty percent of the College's 88-vehicle fleet is made up of electric and hybrid vehicles.
7. Up to seven managed beehives located on Fiji Hill have served as a research subject for associate biology professor Shana Goffredi's students as well as promoting pollination of flowering plants on campus.
8. In addition to such waste-reducing measures as bulk condiment and creamer dispensers in the Marketplace and Tiger Cooler, Campus Dining recently implemented a new filtering device to extend the life of premium cooking oil in the Marketplace's 38.5-gallon fryers. Oxy's FiltaFry service has doubled the useful life of that oil, producing a savings of almost 152 gallons per month.
9. A Sustainable ReCycle program initiated in 2013 collects all usable items left behind in the residence halls after move-out. Items are sold in a "thrift store" during fall move-in. This program has prevented more than 5,000 pounds of usable items from going to landfills.
10. Through the website Building Dashboard, users can view raw, real-time energy data in residence halls with the goal of reducing Oxy's energy consumption and carbon footprint.