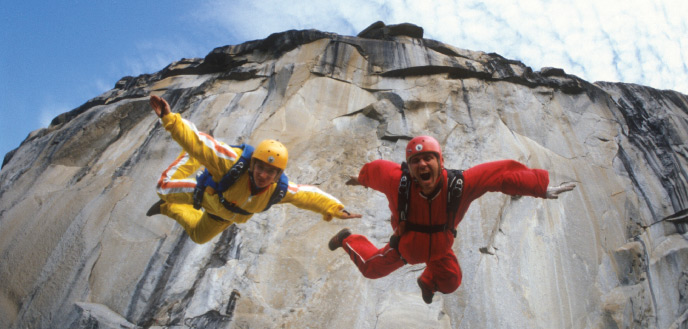 Veteran film editor Eric Bruggemann '93 leaps into the producer's chair with an acclaimed documentary on BASE-jumping pioneer Carl Boenish '63
By Dick Anderson
Back in the 1970s, when Carl Boenish '63 and his thrill-seeking buddies were pioneering the art of diving off fixed objects, they needed a name for the activity. They came up with BASE—as in Building, Antenna, Span, and Earth—and then set about diving: out of airplanes, off Yosemite's El Capitan and a TV tower in Houston, and from the heights of downtown Los Angeles' then-new Crocker Bank high-rise. And Boenish (a 3/2 math and physics double major at Oxy) became a bit of a media celebrity, completing a world-record leap for a Guinness Book of World Records special on ABC with his wife, Jean, before a jumping mishap took his life.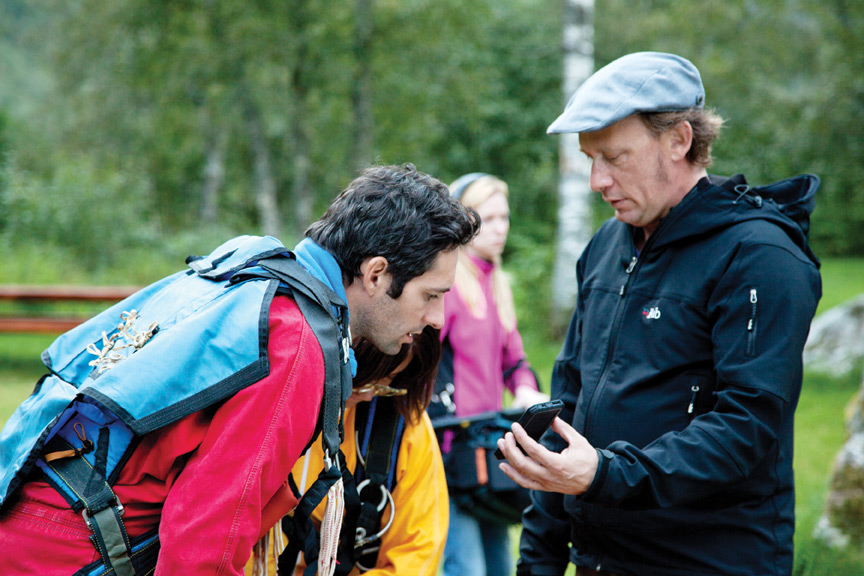 In the eight years that it took for Eric Bruggemann '93 to bring Boenish's story—his run-ins with authorities, his whirlwind courtship with his bride-to-be (a Pomona undergrad), and his indefatigable "celebration of the human spirit"—to the screen in the documentary Sunshine Superman, his own feet remained firmly planted on the ground.
"I think BASE jumping off a cliff would be an amazing thing to experience, but you need to be an experienced skydiver before you can even think of BASE jumping," he says. "To me, BASE jumping is a visually stunning thing to witness: the human form in mid-air, hanging in the balance, arms stretching out. It's an emblem of human aspiration."
Bruggemann began his college studies at USC Film School, but the world-renowned program was a little too main­stream for his tastes. "I wanted exposure to lesser-known and experimental filmmaking," he recalls, so he started a correspondence with Oxy professor and avant-garde documentary filmmaker Chick Strand (who died in 2009). That led him to transfer to Eagle Rock as a sophomore, "an incredible experience" that set the course for his still-evolving career. 
"Everyone was encouraged to pursue their own path in filmmaking, so the classes were diverse and dynamic. Chick provided equal measure of support and enthusiasm for all students regardless of how much their particular approach aligned with hers," he says. "This created a magical, non-judgmental, and nurturing culture within the film program, and I felt very lucky to be a part of it."
Bruggemann got his start in the business as an editor, working on a number of projects with Oscar-winning director Alex Gibney (Taxi to the Dark Side). Gibney signed on as an executive producer of Sunshine Superman and "helped keep us off the rocks in terms of many financial and business decisions during the making of the film," Bruggemann says.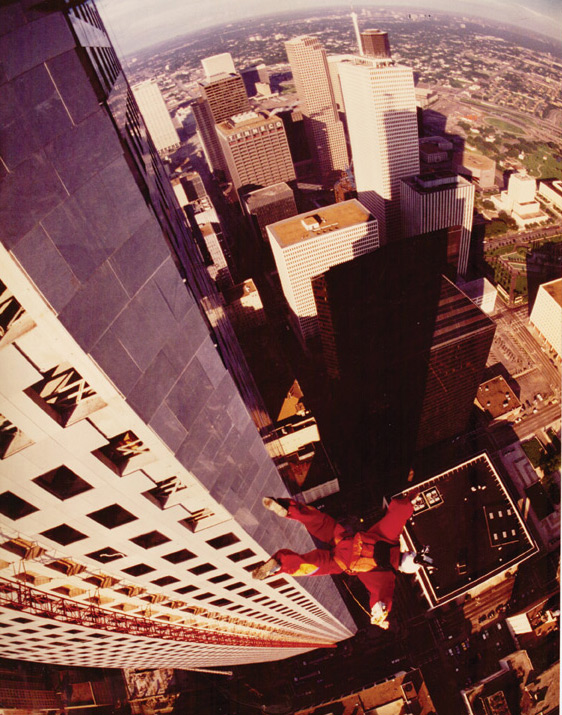 The idea for the documentary came from director Marah Strauch, a longtime friend of Bruggemann's who was experimenting with film. "When she discovered her uncle's BASE-jumping footage, that led us down the path where we eventually heard about Carl and  Jean Boenish. Marah was the investigative engine that drove the film forward, and we worked together from the beginning."
Because Boenish, a professional cinema­tographer, was meticulous about documenting his jumps, he amassed hundreds of hours of footage in his lifetime. "Carl's archive was a sprawling workspace behind his house with file cabinets, shelves, and boxes," Bruggemann says. "It was Marah in the trenches combing through the cans of film, audio and video tapes, and notebooks."
Funding turned out to be the biggest hurdle facing the first-time filmmakers. "It was a few years into the process that we landed on the notion of doing a co-production with Norway," Bruggemann says. "We were able to access funding in Norway, then leverage that to finally secure substantial funding."
When Sunshine Superman finally saw the light of day, it premiered to a packed house at the 2014 Toronto International Film Festival. Jean Boenish "didn't ask to see the film until just days before Toronto," Bruggemann says. "It was the first time she saw anything of what we'd been working on for all these years. She was very moved by the film and is thrilled about how well it's been received."
After a limited theatrical release last summer, Sunshine Superman is now available on iTunes, Amazon, and other digital platforms (magpictures.com/sunshinesuperman). Universal is releasing it in 35 countries throughout Europe, Asia, and South America, and CNN will broadcast the film in 2016. 
While Bruggemann and Strauch are busy fielding inquiries about remake rights (à la The Walk, based on Man on Wire), "It's awards season now," he says, "and we're in the conversation, which is quite a compliment."
He adds: "There were long stretches of time during the process where the only encouraging words were ones shared between Marah and myself." Their commitment to Sunshine Superman demonstrates a leap of faith that Boenish himself would appreciate.