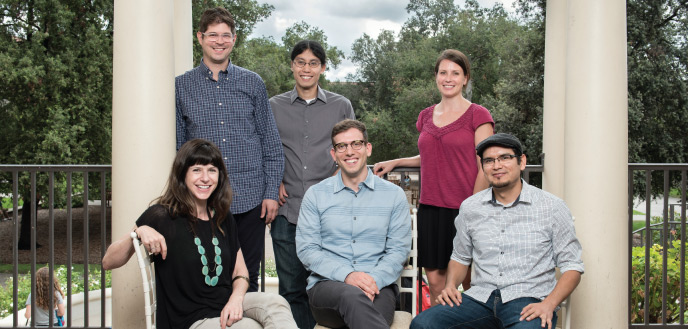 Oxy's new class of assistant professors pushes the number of tenured and tenure-track faculty to an all-time high. Let's get to know them 
By Dick Anderson
With the addition of seven new tenure-track faculty—as well as Virginia Parks as the Madeline McKinnie Professor of Urban & Environmental Policy—Oxy has a record 142 tenured and tenure-track faculty for the 2015-16 ­academic year. Let's meet Oxy's latest class of assistant professors:
Sarah Kozinn (theater) came to Oxy as a Mellon Postdoctoral Fellow in 2013. She has a B.A. in theater from Wesleyan, a master's and Ph.D. in performance studies from New York University, and has trained in Western and non-Western acting as well as experimental theater methods. Last March, she published Justice Performed: Courtroom TV Shows and the Theaters of Popular Law (Bloomsbury Methuen Drama).
Justin Li (computer science) completed his Ph.D. in computer science at the University of Michigan in August. His research is in artificial intelligence, and specifically in the memory mechanisms of cognitive architectures. Li has a B.S. from Northwestern.
Ross Lerner (English) completed his Ph.D. in English literature at Princeton in May; his dissertation was titled Framing Fanaticism: Religion, Violence, and the Reformation Literature of Self-Annihilation. He also has a master's from Princeton and a B.A. from Haverford. Prior to Oxy, he taught at Princeton, Haverford, and prisons in New Jersey.
Jesse Mora (economics) completed his Ph.D. in economics at UC Santa Cruz this summer and wrote his dissertation on Export Failure and Its Consequences: Theory and Evidence. He has a master's from Johns Hopkins University-SAIS and a B.A. from Claremont McKenna.
Christopher Oze (geology) joined the department of geological sciences at the University of Canterbury in New Zealand in 2010, having previously taught at Dartmouth and Bryn Mawr. His research has ranged from environmental contamination of chromium in California to life on Mars. A 1997 graduate of Whitman College, he completed his Ph.D. studies in geochemistry and biogeochemistry at Stanford in 2003.
Adam Schoenberg (music) completed his doctorate in 2010 from the Juilliard School, where he also received his master's in 2005. He was composer-in-residence with the Kansas City (Mo.) Symphony and Lexington (Ky.) Philharmonic in 2012-13 and 2013-14, respectively. A recording of his orchestral works (Finding Rothko, American Symphony, and Picture Studies) by the Kansas City Symphony will be released in early 2016.
Amanda Zellmer (biology) joined the Oxy faculty as an adjunct professor in 2012 and has worked as a postdoctoral researcher with Dan Pondella '87 M'92 since 2013. She completed her Ph.D. in ecology and evolutionary biology at the University of Michigan in 2010 and has a B.S. from the University of Wisconsin-Madison.
What prompted you to pursue a career in academia? And your field in particular?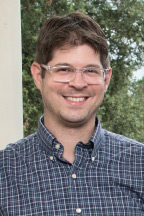 While at Juilliard, I had two mentors, Robert Beaser and John Corigliano. They were extraordinary teachers, and I knew that I would one day want to teach as well, and pass on the traditions of our art form. I grew up playing and improvising on the piano since the age of 3; composing has always been part of my life.
Zellmer: In the summer after graduating from high school, I spent seven weeks volunteering at a rhino conservancy in Kenya. There I learned many of the real challenges to conservation in real time. One main lesson was that we need to know about the biology of organisms in order to protect them and restore their habitats sufficiently. I spent a couple summers during college studying songbird nesting success, one semester counting saplings in habitat restoration plots, and I worked in a lab for a couple of semesters developing theory in the philosophy of science. I wanted to do something that would make a difference and somehow help species survive the threat of the growing human population.
Oze: When I was working as the geology technician at Pomona College, Oxy alumnus Rick Hazlett '75 [a professor of geology at Pomona] demonstrated to me that I could make a career of thinking big and working outside. An academic career in geology was a perfect fit for what I wanted to do and what I was excited about.
Mora: I enjoy doing research, interacting with students, and talking about inter­national economics. I became interested in international trade after taking graduate-level courses and starting my own trade club. I went on to further my interest in this area, working with the Inter-American Development Bank and the U.S. International Trade Commission.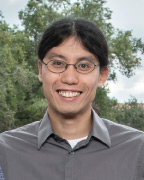 My application essay for Northwestern specifically mentions that "I intend to continue on to graduate school," so I guess academia has been on my mind for a while. As for computer science, as a kid I went through a phase of being interested in psychology, then a phase of building paper models of buildings and spacecraft. I think that my interest in artificial intelligence started as some combination of these remnants of my childhood, as the desire to model the human thought process.
Lerner: I've been lucky to have many remarkable teachers in my life, especially the ones in college and graduate school who first prompted me to consider academia as a career, and to think of reading and writing and teaching as a way of life. I had exceptional teachers who specialized in medieval and Renaissance literature, and it was impossible not to want to work with them. I felt like I might have some things to add to conversations about literary texts and cultural struggles in these periods; I had some research questions about the relationship between literature and religious fanaticism that I thought needed to be pursued historically; and I really wanted to be able to teach very complicated and beautiful and bizarre old literature.
Kozinn: After graduating and working professionally as an actor, I still wanted to continue the conversations and research that I had begun as a fellow at Wesleyan in the Center for Humanities. This led me to NYU, where I was able to discuss the deeper theoretical questions I had about performance while continuing to develop myself as an actor and writer. I find that for me to thrive, I need the balance between artistic creation and scholarly exploration. Being in academia provides that.
What drew you to Occidental?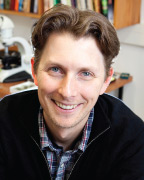 : Easy. Its dedicated students and faculty. Maybe being born in the Year of the Tiger and orange being my favorite color helped.
Schoenberg: I first attended Oberlin, as a college student and soccer player, before transferring to the music conservatory my sophomore year. Because of this, I have always been drawn to a liberal arts environment. I think it can make any artist more well rounded as a person.
Mora: I wanted to work at a liberal arts college; it was a matter of finding the right fit. I was very impressed by the Oxy faculty, and everyone I met was very helpful and welcoming. I knew very soon after my interviews that Oxy was the right choice for me.
Zellmer: Oxy is perfectly located for the types of research in which I'm interested. In Los Angeles, you have one of the largest cities in the United States located next to a variety of biologically diverse ecosystems. There are so many opportunities here to study the interface between nature and humans—the questions one could ask are endless. On top of that, students can quickly and easily get involved in that research. They don't have to worry about traveling to far-away field sites. They can literally walk outside and find many species to study right here on campus.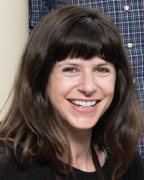 I was excited to be a part of a program that prioritizes student mentorship. I was drawn to how much energy and devotion the theater faculty and staff put into helping the students become better artists and scholars. I was also attracted to the kind of students who come here. From the moment my campus interview began I came into contact with students passionate about the work they were doing here. Combined with being in a city that is at the center of a lot of fantastic art and performance innovation, Occidental's focus on community, collegiality, and rigorous scholarship fit into what I was looking for in an academic home.
Li: Not many people get the chance to help start a new department, and having a hand in designing a curriculum almost from scratch was not something I wanted to give up. Oxy is also unique in that its cognitive science department conducted the search for the position. Given that my research in artificial intelligence draws heavily on human psychology for inspiration, I value the possibility of working more closely with researchers with expertise in that area.
Lerner: The students most of all! Everyone I talked to spoke of their curiosity and creativity, their intelligence and capacity to question. Oxy's mission to sustain more racial and economic diversity on campus showed me that I could count on getting to work closely with brilliant students coming from very different backgrounds and places. The faculty, moreover, has an extraordinary reputation for a balanced commitment to teaching and to scholarship. That's something I care a lot about, how our research can improve our teaching, and how our teaching can shape our research.
What do you regard as the strengths of a liberal arts education?
Schoenberg: Smaller classroom sizes, a more personal interaction with professors and students, and a well-rounded education.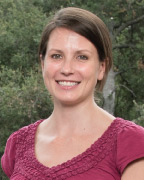 No matter what career you choose, you need to have strengths in many different areas—writing, problem solving, math, historical perspectives, creative thinking. A liberal arts education teaches students how to pursue their main interest while integrating knowledge from many other fields.
Mora: Getting a well-rounded education and having fruitful interactions with peers and faculty alike.
Li: One of the main strengths of a liberal arts education is that students are encouraged (or forced!) to make these connections across multiple disciplines, by faculty who themselves are interested in exploring those same connections. I could say that this will help with their future careers and so on, but honestly it's establishing the connections themselves that gets me excited.
Lerner: Some people say that a liberal arts education is cut off from the "real world." But I feel that a liberal arts education offers its community members the chance to dwell in a place apart, to build and experiment with and question our collective understandings of the world and how it's structured, and also to imagine other possible worlds. This isn't an uncomplicated affair—it requires sacrifice and hard work and alienation and privilege, too—but it's a very singular one, made all the more special by the kind of engaged face-to-face encounters we can have at a small institution like Oxy.
Kozinn: So much of my work relies on cross-disciplinary conversations, and I credit my liberal arts education with giving me the tools to ask questions that can't be answered easily or succinctly. ​One of the strengths of a liberal arts education is the way it cultivates the asking of questions and the self-motivation to search for answers. Liberal arts students make the studio and classroom even more electrifying because they are bringing their varied backgrounds and research interests to the work. The conversations that come from this reveal points of contact between courses that otherwise would seem totally separate. The interconnectivity is exciting.
What are your impressions so far of Oxy students?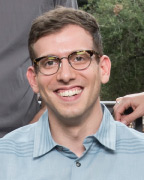 Brilliant and brave, curious and caring, engaged and energizing! By the second week they'd already exceeded my very high expectations of them. They've already taught me a lot about teaching, and also about literary texts that I thought I knew pretty well.
Schoenberg: Definitely intellectually curious. I like how driven my composition and film scoring students are so far. I also like how diverse their backgrounds are. For instance, I have one student from Minnesota who has already made hip-hop beats that have been sold to artists, and he isn't even a music major!
Kozinn: They take their work seriously and expect excellence from their peers and instructors. They often bite off more than they can chew when trying to feed all their interests, yet will work day and night so that they can play sports, be in a show, head up a student organization, dance in Dance Pro, hang out with friends, and speak out against injustices on and off campus.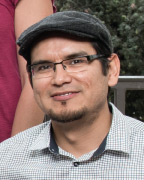 Motivated. Students are smart, open-minded, interested in the material, and willing to participate in class.
Zellmer: Every student has something interesting and surprising to tell me, and I love hearing about all of these new experiences—the wide variety of things that they do.
Li:
I do find Oxy students to be more open to considering broader questions, and are more willing to have conversations about them. I've also noticed that Oxy students seem more polite. That may be just me.