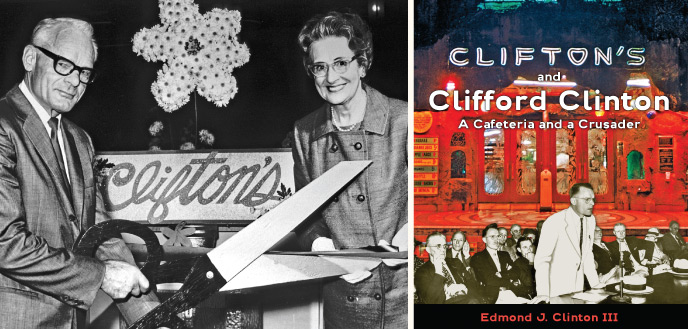 Clifford Clinton was more than a restaurateur—he was a crusader in the face of dirty politics and a pioneer in developing affordable nutrition for those in need, as grandson Edmond Clinton III '68 found
By Dick Anderson
"I always had a great relationship with both my grandparents," says Edmond Clinton III, the eldest of 13 grandchildren to Nelda and Clifford Clinton. "In 1960 they took a bunch of the grandkids on an automobile trip around the country—my grandmother drove one car and my grandfather drove the other."
As one might expect when traveling with a legendary L.A. restaurateur, they ate a lot of their meals at cafeterias. "Cafeterias were a good way to feed a bunch of people without spending too much money," Edmond recalls. "My grandfather would let us get any food we wanted, but we had to eat it all."
The son of Christian missionaries, Clifford Clinton had made it his life's work to feed people. Armed with 2,400 family recipes and his last $2,000, he opened his first Clifton's Cafeteria on Olive Street in Los Angeles in 1931. As the Great Depression left thousands of Angelenos broke and hungry, he created the Penny Cafeteria in 1932, which served 2 million meals over the next two years for 1 cent each. "When he retired from the cafeteria, he worked with Caltech scientists on a food supplement that could be simple to prepare and adequate for their needs," says Edmond, who worked in a number of Clifton's locations during summers as a biology major at Oxy. "To me he was ahead of his time."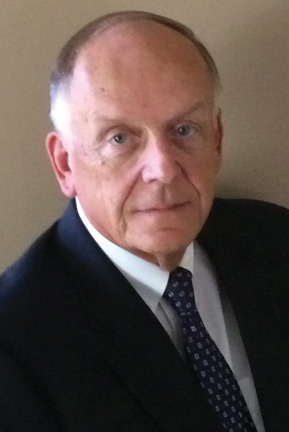 Edmond, left, who has been on staff at Huntington Memorial Hospital as an internist since 1978, spent much of the last seven years piecing together the story of his grandfather's life—a tale of urban reform, unruly gangsters, and Clifton's signature green Jell-O with whipped cream. "I never thought of myself as a writer, but I was always interested in history," says the newly minted author of Clifton's and Clifford Clinton: A Cafeteria and a Crusader (Angel City Press; $30).
The genesis of the project dates to a memoir of sorts that his grandfather had written during an around-the-world trip in 1957—a collection of letters that Edmond's Aunt Jean typed up and shared with the Clintons' grandchildren years later. "The letters sat on the top shelf of my closet, and I never really looked at them," he says.
That changed after he attended a conference on the Progressive movement to clean up politics in Los Angeles. Unbeknownst to him, historian Tom Sitton "started talking about Clifford Clinton as part of that Progressive movement"—one that led to the 1938 recall of Mayor Frank Shaw.
With the encouragement of his wife, Diane (Grossman) '68, and mother-in-law, ­Edmond set about researching his grandfather's story, eventually producing a 400-page first draft. (The generously illustrated finished product clocks in at a lean 208 pages.) "Occidental prepared me well for this task, even though I didn't expect it to happen," he says.
The book's release dovetails with the high-profile reopening of Clifton's Brookdale on South Broadway after a reported ­$5-million makeover from owner Andrew Meieran, who bought the business in 2010. Edmond has mixed emotions about the new Clifton's: "The food is definitely different than it was when my grandfather was involved. They have alcohol and bars"—Clifford Clinton was a teetotaler—"but it's aimed at a different generation of people," he notes.
With the book now completed, the biggest takeaway Edmond had about his grandfather was his focus. "He had strong Christian beliefs, and he fought like a bulldog for what he thought was right," he says. "Clifford Clinton lived by the credo, 'Maybe one man can't do everything, but one man can do something.'"